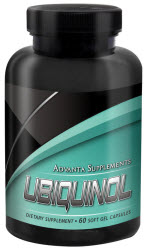 8 times more powerful than CoQ10
Adel, IA (PRWEB) January 29, 2013
Advanta Supplements has released a new potent form of Ubiquinol, which has been in research and development for almost a full year. This new item is available on Amazon.com in a dosage of 50mg and is delivered via a soft-gel capsule. This means it is in liquid form, and will instantly begin to be absorbed by the body.
The company reports that Ubiquinol should not be confused with CoQ10, as it is 8 times more powerful. When a person takes CoQ10, the body must first break-it down into Ubiquinol before it can be of any use. Ubiquinol is a powerful antioxidant that helps protect cells in the body against oxidative-stress, and free-radical damage.
Researchers at Advanta Supplements explained that as people age, their supply of Ubiquinol declines, and must be replaced. People over 30 will especially notice the improvement in energy when they supplement with Ubiquinol. Clinical Studies have shown that 150mg of Ubiquinol given to middle-aged and elderly women daily for eight weeks, had significant improvements in both mental health scores and physical activity. Other studies indicate improvements to heart health.(Journal: Neuroscience Letters. 2010, 469: 159-163)
Advanta Supplements uses only Certified Pure Ingredients, and manufactures them in a GMP Facility in the USA. Ubiquinol is a key component in 95% of the body's energy production. It is great for vascular health, and helps maintain a normal blood-pressure. It is important to understand that this is an essential nutrient for cellular function and antioxidant protection. Signs of aging are another benefit of taking this supplement.
Advanta Supplements only uses ingredients that have been proven in Clinical Studies, and always uses a dosage sufficient enough to give a therapeutic benefit. Merely listing an ingredient on the label, with a minimal dosage, will have no therapeutic effect at all. A supplement buyer should always read the label, and be on the lookout for companies that like to list all of the latest ingredients, but not in a sufficient dosage to do anything.
Ubiquinol By Advanta Supplements is currently only available at Amazon.com