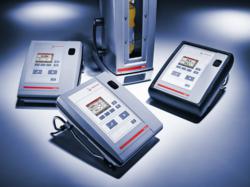 Ashland, Virginia (PRWEB) January 30, 2013
CboxQC At-line is the portable CO2 and O2 meter for measurement during production and bottling. For the utmost flexibility, the instruments' new and robust design is small, compact and lightweight and therefore fully protected for harsh environments.
CboxQC for the laboratory provides reliable CO2 and O2 results, even out of very small packages. The carbonation meters use the Multiple Volume Expansion method patented by Anton Paar for CO2 measurement. This is not influenced by other dissolved gases such as oxygen and nitrogen, is rapid, and needs only minimum sample volume.
Have it all with CboxQC and CboxQC At-line: Together with a new reliable optochemical oxygen sensor the results achieve the highest level of repeatability of up to 0.005 vol. CO2 and ±2 ppb O2. The user interface of CboxQC is clearly arranged and the menu ensures intuitive navigation. Whether directly at the production line or in the laboratory, the CboxQC models are quick and precise, delivering results which are not influenced by operator handling or other dissolved gases.