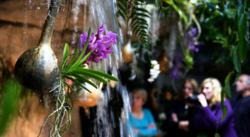 Orchid Mania celebrates the elegance of the world's most sensual flower, from chocolate-scented Oncidiums to lemon-fresh Cymbidiums, delicate 'dancing ladies' to hardy 'bulldogs.'
Cleveland, Ohio (PRWEB) January 30, 2013
Thousands of exotic and alluring blooms will stimulate your senses at Cleveland Botanical Garden's 10th annual Orchid Mania, opening Tuesday, February 5, and running through Sunday, March 10. Leave behind the bitter cold of winter in Northeast Ohio and enjoy a sweet escape into a world of tropical beauties and fabulous fragrances.
Orchid Mania celebrates the elegance of the world's most sensual flower, from chocolate-scented Oncidiums to lemon-fresh Cymbidiums, delicate "dancing ladies" to hardy "bulldogs."
New for the 10th anniversary of Orchid Mania, Garden guests can enjoy "Orchids After Dark" every Wednesday and Friday until 9 pm with cocktails, chocolates and behind-the-scenes tours of Orchid Mania led by the Garden's horticulture staff.
Hours for Orchid Mania are 10 am to 5 pm on Tuesdays through Saturdays, with hours extended until 9 pm on Wednesdays and Fridays, and noon to 5 pm on Sundays. The Garden is closed on Mondays.
You can expect to see more than 100 varieties of splendidly colored and fantastically patterned orchids, with more than 1,000 plants and thousands of blooms in all at Orchid Mania. The always vibrant Eleanor Armstrong Smith Glasshouse offers an even more brilliant experience as its tropical and desert settings are brightened with beautiful orchids from around the world.
Also new for the 10th Orchid Mania, the Greater Cleveland Orchid Society will hold its annual show and sale at the Garden from 10 am to 5 pm on Saturday, February 16, and noon to 5 pm on Sunday, February 17. Judged by the American Orchid Society, the show will draw hundreds of orchid growers from throughout Ohio and surrounding states with their prized entries. Vendors will offer Garden guests the chance to pick out rare orchids for their own homes.
Additional highlights of Orchid Mania include:
ASK THE ORCHID DOCTOR
1 to 3 pm on Saturdays, February 9 & 23 and March 2 & 9
CHILDREN'S ORCHID CRAFTS
1 to 3 pm on Saturdays, February 9, 23 & March 9
ORCHID PHOTOGRAPHY HOURS AND TRIPOD ACCESS
10 am to 12 pm on Sunday, February 3
Free for Garden members; $9.50 for non-members, $4 non-member children
Cleveland Botanical Garden, 11030 East Boulevard, is an ever-changing urban escape where you'll find enrichment and inspiration through fabulous gardens, an exotic Glasshouse and enchanting events. We make our community greener and healthier by growing young lives and restoring land throughout the city.
###
Cleveland Botanical Garden receives public support through Cuyahoga Arts & Culture.
MEDIA CONTACT: Tom O'Konowitz, tokonowitz(at)cbgarden(dot)org, 216.707.2818