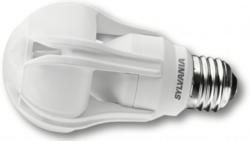 It is truly remarkable that this new energy-sipping bulb gives off the equivalent brightness and color of the standard 100W and lasts 25 times longer than the bulbs it is designed to replace
Brooklyn, NY (PRWEB) January 30, 2013
Osram Sylvania launched their LED light bulb that has a similar shape, brightness and glow of a 100-watt incandescent bulb. What makes the new bulb different from the standard incandescent bulbs that are to be phased out soon is that it consumes only 20 watts of electricity and provides up to 25,000 hours of light. Incandescent bulbs are available from some stores for less than $1 each while this new bulb retails for just under $40. Though that's a lot more expensive when compared to the standard, this longer-lasting LED offers a savings of $250 over its life. (Assuming average electricity rates of $0.11/ kWh). This new bulb is the latest addition to Osram Sylvania's Ultra LED A-line series of bulbs, which also comprises substitutes for 40, 60 and 75 watt incandescent bulbs.
A representative of BulbAmerica.com says, "The 100-watt equivalent LED bulb's release is truly a milestone in the transition to energy efficient lighting. CFLs cost much less than LEDs, which may limit adoption of the new bulbs. However, it may appeal to consumers who are not happy with the look, light quality, or the mercury content of 100-watt equivalent compact fluorescent light (CFL) bulbs that have been on the market for several years. It is truly remarkable that this new energy-sipping bulb gives off the equivalent brightness and color of the standard 100W and lasts 25 times longer than the bulbs it is designed to replace."
A pack of 6 100-watt equivalent CFLs from Osram Sylvania retails for about $20. They consume 23 watts and provide up to 12,000 hours of light. While the price might be a deciding factor in most purchasing decisions, the longer life of LEDs combined with their light quality will make them attractive to some consumers. Additionally, the absence of mercury that is present is CFLs is a plus point for people who are concerned about mercury pollution. Other lighting companies such as Phillips, Switch, and GE are expected to unveil models in the coming months.
BulbAmerica, the largest online retailer of light bulbs and lighting fixtures in the Unites States has been a part of the lighting industry for close to ten years now. Their exhaustive inventory of quality products includes, but is not limited to fluorescent, halogen light, LED, CFL, and incandescent bulbs, projector lamps, and various LED lighting options. For more information about these high efficiency light bulbs that they offer at BulbAmerica, visit http://www.bulbamerica.com or call 888-505-2111.