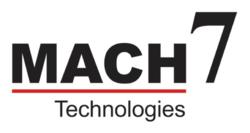 Burlington, VT (PRWEB) January 30, 2013
Mach 7 Technologies (Mach7), a global provider of enterprise clinical image management solutions, brings its award winning technology and innovation to the mobile market. Mach7 introduces the new Keystone iModality application for mobile devices. The latest software solution from Mach7 Keystone Suite empowers clinicians to capture medical imaging data from an iPhone or iPad to be stored on a patient's Electronic Health Record (EHR).
Capturing visual light photos, videos, and notes of moles, specimens, ulcers, abuse cases, and more can be as simple as snapping a photo from a phone or tablet device. Through a simple workflow the iModality application enables clinicians to associate any image, video, or note captured on an iPhone or iPad to related patient and procedure attributes. Captured medical imaging data can then be sent directly to an archive or workstation through the Keystone server based on customer-defined rules, and linked to the Electronic Medical Record (EMR) for later digital reference.
(The Keystone iModality application is intended for use to capture medical imaging data for clinical review. Captured medical imaging data is not intended to be used for diagnosis.)
Keystone iModality app is another example of Mach7's continuous creative innovation which was recognized by Frost & Sullivan with the 2012 Global Enterprise Imaging Informatics Entrepreneurial Company of the Year Award. The global market research firm believes that Mach 7 Technologies has shown strength in terms of innovation in business processes, leadership in customer value as well as market penetration.
"The new mobile device application exemplifies Mach 7 Technologies' ability to meet the technical as well as clinical requirements of enterprise image management and archiving," says John Memarian, General Manager, Sales & Global Marketing for Mach7. "This ability is proving pivotal in aligning the incentives of the various medical imaging stakeholders across the clinical, IT, and business enterprise."
About Mach 7 Technologies
Mach 7 Technologies, headquartered in Singapore, is a global provider of innovative, flexible, enterprise clinical image management solutions that enable healthcare enterprises to own, share, and access medical image data. Mach7's flagship Enterprise Clinical Image Management solution, Keystone Suite, is composed of innovative and sophisticated technology designed for vendor-neutral archiving (VNA), intelligent routing and prefetching of relevant medical images, clinical viewing and complete image management. Keystone Suite has been used by healthcare institutions around the world for archiving, academic medical research, improved radiologist productivity, cost savings and more across an enterprise. For additional information, visit http://www.Mach7T.com.