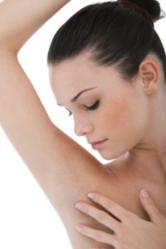 Beverly Hills, CA (PRWEB) January 29, 2013
According to the American Academy of Dermatologists, 7 million people in the United States currently suffer from excessive sweating, known as hyperhidrosis. Dr. Sam Assassa, a renowned aesthetic surgery specialist and founder of Beverly Hills Aesthetics, wants to help end the discomfort and embarrassment these individuals face everyday. After being one of the first cosmetic specialists to offer the procedure in 1997, Dr. Assassa is once again providing his clientele with the SweatZap™ procedure, just in time for the summer season.
SweatZap™ is a one-hour procedure done with a minimum invasive laser energy that passes underneath the skin to safely and permanently eliminates the underarm sweat glands. Working together, the light and energy from the lasers eliminate the sweat glands. At the same time, the laser seals the small blood vessels, thereby preventing bleeding. Clinical studies show an 80% reduction in sweating. No scalpels, stitches or general anesthesia is used.
Results are accomplished immediately after the procedure. Normal activities may be resumed after about two days downtime. This minimally invasive treatment does something no strong antiperspirant in the world can: removes armpit sweat glands permanently. Hyperhidrosis negatively affects millions of people's lives, careers and relationships. For more information on SweatZap™ or to get a free SweatZap™ consultation with trusted cosmetic surgeon Dr. Sam Assassa, visit the Beverly Hills Aesthetics website.
About:
Dr. Sam Assassa is a non-invasive aesthetic cosmetic surgery specialist and founder of Beverly Hills Aesthetics. His state-of-the-art techniques have made him one of the leading aesthetic surgeons specializing in non-invasive cosmetic surgery, Smart Lipo and body sculpting. Call our Los Angeles clinic at (888) 349-2069 for more information on SweatZap™ and other nonsurgical procedures.