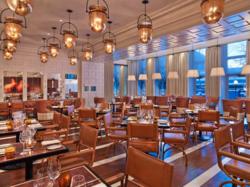 The newly-renovated Hotel Jerome and St. Regis Aspen Resort feature Eric Brand's exquisite furnishings specific to each distinct property.
Burlingame, CA (PRWEB) January 29, 2013
Eric Brand, a premier high-end, contemporary furniture manufacturer, is pleased to announce that the newly-renovated Hotel Jerome and St. Regis Aspen Resort feature Eric Brand's exquisite furnishings specific to each distinct property. Eric supplied top-quality products in record time, and both hotels add to Eric's portfolio of five-star clients in the boutique hotel market.
For the Hotel Jerome, Eric was commissioned to manufacture custom-designed furniture by TAL-Studio, including writing desks, butler cabinets, magazine racks with an essence of a saddle bag, customer lockers in the Auberge spa, custom bar fronts in the penthouse suites, all seating in the main dining room, as well as leather strapped decorative wall paneling inside elevator cabs. Eric was also commissioned to supply some of his own designs, all of which involve the beautiful, wrapped leather stitchery that Eric is known for, which is reminiscent of old steamer trunks – such as leather buckles, straps and authentic hardware which you'd find on an old, covered wagon. The Hotel Jerome, which unveils its new look this winter season, blends its elegant historic detail with an updated design and new amenities. Renovation highlights include the lobby and atrium, a stylish new restaurant, luxuriously updated guest rooms and a new Auberge Spa.
Elaborating on the very interesting project to supply artwork for the elevator cabs, Eric explained, "We collected thousands of vintage leather belts with a western feel from all over the U.S. Using a very careful and thoughtful process, we organized the belts and coordinated colors and patterns to create 3-D artwork for each elevator cab," explained Owner Eric Brand. "There's a lot of history inside these elevator cabs, and undoubtedly each belt must have the same colorful story as the property itself. We're pleased that Auberge is a quality Brand Resort!"
While Eric has previously provided products for the luxury St. Regis brand, this Aspen property marks first time Eric has produced the entire guest room package. Eric was commissioned to design products for the guest rooms and public area, including beds, nightstands, desks, credenzas and lounge seating, to name a few. Each item that Eric created echoes the aesthetic of creating a bridge between contemporary and traditional. Eric explained, "Each product is decidedly traditional in its roots but has contemporary detailing to bring it into modern times." Eric worked closely with Houston-based designer Rottet Design to be a true advocate for their original concepts. "We worked carefully with Rottet to further develop the product to achieve the desired results," Eric elaborated. In more than a century since its inception, The St. Regis has experienced remarkable growth, expanding its portfolio with hotels and resorts in such coveted locations as Singapore, London, San Francisco, Rome and Bali.
Drawing on local expertise, Eric enlisted the help of Alison Agley. "Alison's background in architecture and knowledge of the local Aspen location was a big asset for us," observed Eric Brand. Alison was charged with the local project management of both projects. Elaborating further on the successful collaboration, Alison explained, "I loved the opportunity to represent Eric Brand Furniture for two exciting remodels here in Aspen, the Hotel Jerome and the St. Regis Residences. As a local architect I really enjoy helping 'out of town' companies with great in town resources to get these important projects finished in time for the Holidays. The St. Regis remodel came out very sophisticated and locals are really excited for all the changes at the Hotel Jerome. We think it's going to be the place to hangout."
"Eric Brand was great to work with on the Residences at the St. Regis Aspen Resort. The Eric Brand team was very attentive to detail throughout the project and kept the design team well informed during all stages of design and production. Their ability create amazing custom pieces with unusual materials while staying on or ahead of schedule allowed installation to be completed before the Thanksgiving holiday which was an invaluable accomplishment for both the client and the residents themselves," commented Lauren Rottet, Owner of Rottet Design.
"With each project we've asked Eric Brand to supply, the continuity of exceptional team management, excellent customer service and creative problem solving abilities all culminate into a beautiful finished product. We were extremely satisfied with Eric Brand's performance on the St. Regis Aspen Residences and will absolutely look to him again for another five star experience," explained Nancy Smith, Purchasing Agent at Parker International.
About Eric Brand:
Eric Brand, founded in 1997 by designer Eric Brand and based in Burlingame, CA, manufactures innovative and widely recognized lines of hospitality and residential original furnishings, featuring unique multimedia approach to design/fabrication and use of exotic materials to create a splendid bridge between the cultures of Asia and the United States. Eric Brand's designs have been featured in hundreds of magazines and publications worldwide. Credited for redefining luxury and transforming the world of high-end furnishings, Eric Brand has been responsible for architectural interiors for clients such as Chanel, Coach, and Donna Karan. Eric Brand manufactures and has offices in the United States, Philippines and China – their primary manufacturing facility with over one million square feet and approximately 1,500 employees. For more information and to register please visit http://www.ericbrand.com, or email customer service at info(at)ericbrand(dot)com.