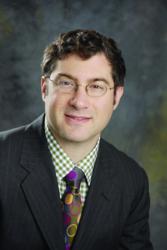 It's a great honor to receive this recognition from Dr. Stecker and the Department of Neuroscience... We have a great team, and I am happy to contribute in this
way.
Rockville Centre, NY (PRWEB) January 30, 2013
Top endovascular neurosurgeon Jonathan L. Brisman, M.D. was recently honored by Winthrop-University Hospital for leading 150 Neuroscience Cerebrovascular Case Conferences. The special recognition was given by Mark Stecker, M.D., Ph.D., Chair of the hospital's Department of Neuroscience.
Dr. Stecker also recognized vascular and neurocritical care neurologist Elzbieta Wirkowksi, M.D., Director, Cerebrovascular Disorders and Stroke Program and Co-Director, Neuroscience Intensive Care Unit; vascular neurologist Jay Yasen, M.D., Associate Director, Cerebrovascular Disorders and Director, Neurovascular Laboratory; and Laura Patruno, P.A., Neurological Surgery, P.C. (NSPC) Cerebrovascular Physician Assistant.
Dr. Brisman is affiliated with Neurological Surgery, P.C., the region's premier neurosurgical private practice. "This is a significant milestone and a great achievement," said Dr. Stecker. "It shows Dr. Brisman's commitment to education and to helping our program and our patients."
The cerebrovascular case presentation conferences are ongoing educational programs for the hospital's staff in which specialists discuss the management of particularly complicated cases. Dr. Brisman picks cases that are especially enlightening and often have to do with patients who have complicated or rare disease states. The team works together to plan and implement the conferences, which are generally held weekly. The conferences focus on the challenges of treating and diagnosing these conditions. "We would not be able to have the first-rate program that we have without this level of education and discussion," said Dr. Stecker.
Dr. Brisman, a fellowship-trained, board-certified neurosurgeon, specializes in surgical management of cerebrovascular conditions, which affect the circulation of blood to the brain. He has advanced training and is among the region's most experienced neurosurgeons practicing endovascular neurosurgery, a form of minimally invasive surgery in which thin catheters are threaded through blood vessels in order to diagnose and surgically treat disorders of the brain. Among the conditions he specializes in treating are stroke, brain aneurysms, brain arteriovenous malformations (AVM), and carotid stenosis.
"It's a great honor to receive this recognition from Dr. Stecker and the Department of Neuroscience," said Dr. Brisman. "We have a great team, and I am happy to contribute in this way."
Dr. Brisman was the first endovascular neurosurgeon on Long Island, the first neurosurgeon on Long Island to coil a cerebral aneurysm and the first physician in Nassau County to place an intracranial FDA-approved stent for artherosclerotic disease. One of only approximately 100 surgeons in the U.S. trained in both endovascular and microneurosurgical techniques, Dr. Brisman has authored numerous scientific papers, including landmark papers in the New England Journal of Medicine and Lancet Neurology. He wrote a recent book chapter that discusses the latest guidelines on stroke treatment. Dr. Brisman is an ad hoc reviewer for Neurosurgery, American Journal of Neuroradiology, International Journal of Radiation Biology, and Acta Neurologica Scandinavica. He was recently selected to serve on the editorial board of the prestigious American Journal of Neuroradiology. Dr. Brisman regularly leads and participates in educational programs throughout Long Island for physicians and patients, focusing on cerebrovascular disorders and their treatment. He serves as the Medical Director of the Leslie Munzer Neurological Institute, a not-for-profit organization that provides support and educational programs, and funds research, on a range of diseases of the central nervous system.
About Neurological Surgery, P.C.
Neurological Surgery, P.C. is one of the New York City area's premier neurosurgical groups, offering patients the most advanced treatments of brain and spine disorders. These include minimally invasive procedures such as stereotactic radiosurgery (Gamma Knife®, CyberKnife® and Novalis Tx™), aneurysm coiling, neuro-endoscopy, spinal stimulators, carotid stents, interventional pain management, microdiscectomy, kyphoplasty, and other types of minimally invasive spine surgery. The practice's physicians represent a range of surgical and nonsurgical specialties, combining compassionate care with highly specialized training. They are leaders in the region's medical community, with appointments as chiefs of neurosurgery in some of Long Island's best hospitals. NSPC offers 10 convenient locations in Nassau and Suffolk Counties, as well as in Queens and Manhattan. For more information, call 1-800-775-7784 or visit http://www.NSPC.com.