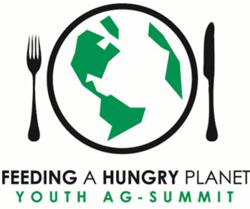 "If the next generation is to help find a solution, they must first understand the challenges and opportunities their peers are experiencing around the world today," said Jim Blome, president and CEO of Bayer CropScience North America.
Research Triangle Park, N.C. (PRWEB) January 29, 2013
Bayer CropScience invites young Americans to join youth from around the world to 'come to the table' from August 19 to 25 for the global Youth Ag-Summit in Calgary. At this week-long event, participants, including business leaders and scientists, in addition to the youth, will share ideas and develop a plan of action on how to feed, nourish and clothe a growing planet.
In November 2011, the United Nations announced the planet's population surpassed seven billion people, and in less than 40 years, it is forecasted there will be two billion more mouths in need of healthy food and nutrition.
Through February 15, Americans between the ages of 18 and 25 can submit an application for a chance to attend the summit by writing a 2,000-word essay or taping a seven-minute video about the challenges of feeding a hungry planet. Twenty U.S. applicants will be selected by a panel of judges to receive an expense paid trip to the global Youth Ag-Summit. For a copy of the essay question, submission format and eligibility requirements, please download the full application guidelines.
As the title sponsor of the Youth Ag-Summit, Bayer CropScience is committed to inspiring youth from around the world to see how they can make a difference and bring agriculture to the forefront of this global challenge. Countries currently involved include: Australia, Brazil, Canada, Costa Rica, Chile, China, Finland, France, Germany, India, Indonesia, Italy, Japan, Korea, Mexico, South Africa, Spain, Taiwan, United Kingdom and the U.S.
"If the next generation is to help find a solution, they must first understand the challenges and opportunities their peers are experiencing around the world today," said Jim Blome, president and CEO of Bayer CropScience North America. "No one person, company or nation holds the answers but through discussion and collaboration at the Youth Ag-Summit, it is hoped that agricultural solutions can be found, acted upon and achieved."
In an effort to reach potential participants in the United States, National 4-H Council, the nation's largest youth development organization, is managing the selection process for the Youth Ag-Summit and video and essay contest. 4-H is a community of seven million young people across the world learning leadership, citizenship and life skills. 4-H'ers are stepping up to meet the demands of a complex world, including a more food-secure planet. Council is the private sector, non-profit partner of 4-H National Headquarters located at the National Institute of Food and Agriculture (NIFA) within the United States Department of Agriculture. 4-H programs are implemented by more than 100 land-grant universities and the Cooperative Extension System through their 3,100 local extension offices across the country.
Young adults between the ages of 18-25 can find out more details on how to submit their application by visiting http://www.YouthAgSummit.com.
For additonal information and background on other sustainability initiatives please visit http://www.bayercropscience.us/our-commitment/bayer-initiatives. To learn more about Bayer CropScience, visit http://www.bayercropscience.us or contact your local sales representative for product information.
###
About Bayer CropScience
Bayer is a global enterprise with core competencies in the fields of health care, agriculture and high-tech materials. Bayer CropScience, the subgroup of Bayer AG responsible for the agricultural business, has annual sales of EUR 7.255 billion (2011) and is one of the world's leading innovative crop science companies in the areas of seeds, crop protection and non-agricultural pest control. The company offers an outstanding range of products including high value seeds, innovative crop protection solutions based on chemical and biological modes of action as well as an extensive service backup for modern, sustainable agriculture. In the area of non-agricultural applications, Bayer CropScience has a broad portfolio of products and services to control pests from home and garden to forestry applications. The company has a global workforce of 21,000 and is represented in more than 120 countries. This and further news is available at: press.bayercropscience.com.
Contact:
Bayer CropScience Media Hotline, 1-877-879-6162, or
Becca Hogan
External Communications Manager
Bayer CropScience
Tel: (919) 549-2998
Email: beth(dot)roden(at)bayer(dot)com
USA-BCS-2013-0023
Find more information at http://www.bayercropscience.us.
Forward-Looking Statements
This release may contain forward-looking statements based on current assumptions and forecasts made by Bayer Group or subgroup management. Various known and unknown risks, uncertainties and other factors could lead to material differences between the actual future results, financial situation, development or performance of the company and the estimates given here. These factors include those discussed in Bayer's public reports which are available on the Bayer website at bayer.com. The company assumes no liability whatsoever to update these forward-looking statements or to conform them to future events or developments.