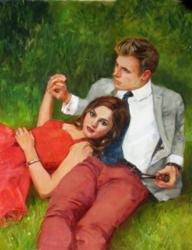 When I see the caliber of images photography artist Renee consistently produces, I am excited to capture the lighting and gesture so vital to a successful portrait.
San Francisco, CA (PRWEB) January 31, 2013
At the moment the bride says "yes to the proposal", the wedding planning begins!
Even before the flurry of bridal shows, wedding magazines, or choosing the wedding gown, the trend is for couples begin to document the unique path they will follow up to the wedding day itself.
In a unique collaboration, Arizona portrait artist Chris Saper and Bay Area Photographer Renee Bergmen have teamed up to offer the engaged couple not only a stunning photo portfolio of their romance, but a lasting original heirloom oil portrait.
Bergmen's packages include client rights to high resolution images, a rarity in the realm of traditional professional photography. With access to a large selection of high quality images, Saper can create a painting that mixes and matches expressions, body language and setting.
Saper and Bergmen agree: choosing a portrait painter and a photographer has everything to do with relationship - confidence in the person who will create a timeless heirloom.
Since beginning her portrait practice in 1991, Saper has painted nearly 400 portrait commissions for families and corporations nationwide. She has authored 2 books and 4 instructional DVDs, and is an active demonstrator, lecturer and teacher.
After many years as successful photographer in Arizona, Bergmen is quickly establishing herself as an active and creative presence in the Bay Area.