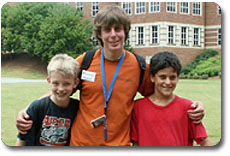 Fairfield, Connecticut (PRWEB) January 30, 2013
Emagination Computer Camps, a national operator of summer technology camps, announces the summer 2013 grand opening of its newest summer camp at Fairfield University in Fairfield, Connecticut. Camper registration is available at ComputerCamps.com.
From technology beginners to computer experts ages 8-17, Emagination offers over 20 technology workshops including 3D Animation, Digital Music, Web Design, Video Game Design, Mobile Game Design, Programming, iApps, Robotics, Radio-Controlled Cars and more.
At Emagination, technology learning is balanced with summer camp fun --- campers go for a swim, play soccer, capture the flag, ultimate Frisbee and enjoy other outdoor summer camp games and activities.
Kids and teens who love technology come to Emagination's summer camps from nearby communities, across America and internationally.
Campers are taught using professionally developed curriculums delivered in person (not online) by a dedicated staff of young adults who share a passion for technology. Counselors are recent college graduates, current college students and Emagination camper alumni. They are studying computer science, information technologies, digital arts and related fields.
Campers at Emagination learn valuable technology skills that help prepare them for college and careers beyond. The camp also encourages social development through teamwork and traditional summer camp activities.
At Emagination's new Connecticut summer camp, campers come for two-week sessions as a day or overnight camper. They choose three technology workshops plus a recreation activity. A Talent Show, a day of games on Saturday and an evening program of recreation and technology help create a well-rounded summer camp experience.
Emagination serves kids and teens ages 8-17. Teens are part of Senior Camp that includes more independence, privileges and a senior lounge for free time with camp friends.
"Fairfield University is a perfect location for our newest summer camp with its quiet suburban campus and first class facilities including classrooms, indoor pool, outdoor fields and air conditioned accommodations for overnight campers" said Craig Whiting, Executive Director of Emagination. He added "We are excited to be opening a Fairfield County day camp and overnight camp that will be especially convenient for families in Connecticut and New York."
About Emagination Computer Camps:
Emagination operates summer technology camps for children on college campuses in Fairfield, CT and near Atlanta, Boston, Chicago and Philadelphia. Since 1982, Emagination has served thousands of children by blending the latest in technology learning with cool non-tech activities to create a well-rounded summer camp experience. Kids and teens who love technology come to Emagination from across America and internationally. Learn more at http://www.computercamps.com
MEDIA CONTACT:
Craig Whiting, Executive Director (781) 933 8795.