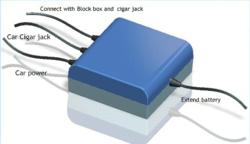 Southlake, TX (PRWEB) January 30, 2013
Cell Drive and Egen look to work with vehicle Black Box companies who wish to design and develop backup battery for vehicle event data recorders to insure that there be no interruption of data and image gathering. Egen will use experience of their existing batteries sold into the South Korea automobile market.
Egen has developed a production backup battery with a charging voltage of 14.6V, 7.8A and an output current of 12-14.6V, 3A Max. in a small footprint of 60x134x139 mm with a weight of 800g.
In addition to the Black Box application, Egen designs and manufactures mobile phone, digital camera, radio, portable media player (PMP), tollway transmitters and voice over IP (VoIP) batteries for the local market.
Egen holds over a dozen patents in consumer electronics including battery with data link system, keyboard with input letter display system and vehicle sleeping prevention system and others.
Sam Duyka, CEO of Cell Drive asks that those interested contact him at sam(at)mycelldrive(dot)com to discuss requirements for the Black Box battery and any other custom battery need.