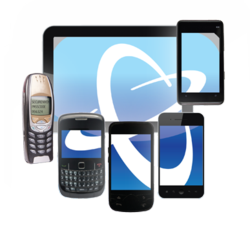 "We used a two-factor authentication approach that utilised a token for a while, but our customers asked for cheaper, more straightforward and more flexible solutions,"
Frankfurt / London - 28th January 2013 (PRWEB UK) 30 January 2013
SecurEnvoy and the Californian software development company PasswordBank have entered into a partnership and will now be working together in order to combine the benefits of SecurEnvoy's two-factor authentication technology and PasswordBank's Identity-as-a-Service platform, which bears the same name as the company. Users can identify themselves and gain access to all web and cloud applications via the platform, where they just have to log in once and can use the same password for all actions. In order to provide additional security, tokenless two-factor authentication was also recently integrated into the platform. This results in users receiving a new code on their mobile telephone via SMS when they log in, which is then entered together with other log in details. This provides customers with more secure access to cloud applications via the identity management solution.
"One great advantage of cloud technology is that it releases staff from the obligation to operate from a fixed place of work and provides access to the required tools at any time and from any place," explains Steve Watts, Sales Director at SecurEnvoy. "With regard to security, many companies are implementing two-factor authentication, an identification process that allows businesses to know at all times who is accessing their systems. If companies force employees to use a physical token for identification purposes, the benefits provided by cloud technology cannot be utilised in full. However, if one uses an SMS message as the second authentication factor instead of a token and combines this approach with the flexibility of cloud applications, employees are granted the freedom that they require."
"We used a two-factor authentication approach that utilised a token for a while, but our customers asked for cheaper, more straightforward and more flexible solutions," says Dennis Lee, Vice President of Technology at PasswordBank. "And by offering SecurEnvoy's tokenless two-factor authentication solution, we now meet the requirements of these customers, as the solution can be combined easily with our current systems."
What is two-factor authentication?
Two-factor authentication is a method used to check that a user is actually the person who he or she claims to be. This requires a combination of two factors - something that only the user should know (username, password or PIN code) and something that the user possesses (token). A third possible factor that could be used is a fingerprint. It is thus the case that two-factor authentication goes a step further than traditional logins, which involve simply a username and a password.
The use of a token for such an authentication process began around twenty years ago. Tokens generate a password that is valid only once and which is part of the two-factor authentication method. This password changes for every login, which is a clear difference from the use of static PIN codes. The physical hardware tokens used from the 1980s to generate such one-time codes are now being replaced by apps on smartphones, or codes are sent by SMS. The advantage of this approach is that mobile devices such as smart phones are already a constant companion for many people. Tokenless authentication is therefore much more straightforward and practical than the previously used identification methods.
More news about SecurEnvoy is available at http://www.securenvoy.com/blog/.
About SecurEnvoy:
SecurEnvoy is the trusted global leader of Tokenless® two-factor authentication. SecurEnvoy lead the way as pioneers of mobile phone based Tokenless® authentication.Their innovative approach to the Tokenless® market now sees thousands of users benefitting from their solutions all over the world. With users deployed across five continents, their customers benefit from significant reduced time to deploy and a zero footprint approach means there is no remote software deployment and administrators enjoy the management tools allowing them to rapidly deploy up to 100,000 users per hour. With its channel centric approach, SecurEnvoy continues to expand its revenue and profitability year on year with customers in Banking, Finance, Insurance, Government, Manufacturing, Marketing, Retail, Telecommunications, Charity, Legal, Construction. Their partners include, Juniper, Citrix, Fortinet, Sonic Aventail, Cisco, Checkpoint, Microsoft, F5 and others.