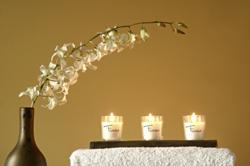 Anyone who appreciates out-of-the-box creativity will love this candle - especially how well it fills larger spaces! - Gayla Bentley
Houston, Texas (PRWEB) January 30, 2013
Storming into the perfume culture with discerning fragrances for the aficionado, Fumme presents handcrafted candles created in small, tightly controlled batches that guarantee their perfection. Under the creative direction of perfumer and owner, Lisa Rogers, Fumme has quickly established itself as a break-through force in a market clogged with mass-produced, discernible fragrances.
Critics attest that "The new 'Running with Scissors' scent for this candle line is fresh and crisp with fabulous herbal green notes that are invigorating and edgy all at the same time. "You can't get enough of it." Gayla Bentley of The Gayla Bentley Design Group professes that "Anyone who appreciates out-of-the-box creativity will love it – especially how well it fills larger spaces." Be daring! Be different! Run with scissors!
Fumme's "Haute Flash" and "Bangkok" candle scents are just a few of the hallmarks of this purely artistic, avant garde approach Lisa uses to color your environment in fragrance. Under her creative control , Fumme approaches the development of all of its fragrances from a purely artistic perspective. Lisa has a strong belief that a candle fragrance or Perfume should be created the same way an artist paints a masterpiece - it must come from the heart and move the soul. Fumme focuses on unique and sophisticated fragrance, offering the demanding consumer a selection of highly scented candles that are very much in the now. The amount of testing done prior to release ensures that every candle fragrance with have a maximum throw, easily filling large spaces. Lisa uses her training as a Perfumer to bring a artistic level of creation to Fumme's entire line of candle fragrances. "Running with Scissors", continuing this approach, adds an entirely new cutting edge to the equation.
Fumme fragrances and candles are available only in selected boutiques and upon request at http://www.Fumme.com. For more information about the complete line of Fumme products and perfumer Lisa Rogers, contact media relations and customer relations in Houston, Texas at 713-956-0237 or info(at)fumme(dot)com. Dare to be Unique!!