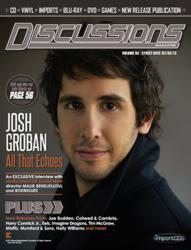 Discussions Magazine is the bible of Music and Movie new release information.
Irvine, CA (PRWEB) January 28, 2013
Not since Ice Magazine left the market in 2006 has there been a comprehensive weekly publication available to the public that is a one-stop source for all new Music and Movie releases. Discussions Magazine is exactly that and more. What makes it even better is that while it was previously a paid subscription magazine, it's now being offered at no charge to everyone thanks to ImportCDs.com.
Discussions Magazine is a weekly digital publication with 50 issues published per year. It's the bible of music and movie new release information. Touting the most accurate and up-to-the-minute title updates at your fingertips, industry insider information, artist interviews, film reviews, contests and exclusive offers from ImportCDs.com, it truly is an audiophile and movie buff's dream come true.
What makes it even more enticing is the digital magazine's amazing functionality – anything you see in the magazine that you like, simply click and buy. No more time wasting searches – ImportCDs.com and Discussions Magazine have made shopping for CDs, DVDs, Blu-Ray, Vinyl LPs and Video Games so easy.
The partnership between ImportCDs.com and Discussions Magazine is a marriage made in heaven. By supplying your email address at ImportCDs.com, each issue of Discussions Magazine is delivered right to your email inbox every week. Customers will know what is available every Tuesday, which is the standard street date for most music and movie new releases. Additionally, readers will receive content such as exclusive interviews like the one featured in Discussions Magazine Issue #4 with Searching For Sugar Man director Malik Bendjelloul and Rodriguez. This digital magazine has the most informative content of any entertainment magazine on the stands today.
To make the proposition that much sweeter, ImportCDs.com claims more than 360,000 titles in stock of which more than 85,000 are hard to find imports. "Unlike most other sites, we stock all our product in our own warehouse. We do not rely on anyone else to get your in-stock order out the door. Single item orders are picked, processed and packaged in a matter of hours, not days. Multiple-item orders are hand-packed and usually out the door in a day or so" said Tim Hinsley- Vice President, Retail Operations. And if that's not enough, ImportCDs.com offers you the lowest possible prices on imports and hard to find products from around the world.
Go to http://www.ImportCDs.com today and sign up for your copy of Discussions Magazine and begin receiving your subscription next week.
Press Contact: Jocelynn Pryor, Director of Marketing - JocelynnP(at)sdcd(dot)com