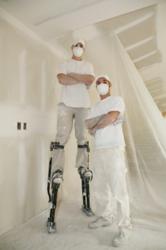 Toronto, Ontario (PRWEB) January 29, 2013
To provide temporary residences for a growing population of renters, Toronto landlords are converting old single-family homes into multi-dwelling units. In order to create new living spaces that have features like separate entrances, sound dampening, and proper insulation, homeowners are turning to professional Toronto drywall contractors Lynxus Drywall & Acoustics Inc for help. The experienced drywall contractors will not only provide the necessary drywall work, but can help plan how to properly separate the home into individual apartments.
Canada's largest city, Toronto, continues to grow at a rapid pace, and many of its citizens, including students, newlyweds and immigrants, are looking for apartments in homes, as opposed to the higher-priced condos that are typically located in commercial neighbourhoods. The need to utilize the existing residences is becoming more of a necessity, and homeowners are recognizing the value in creating income properties from their houses.
However, since many of these homes were built approximately a century ago, dividing the homes into separate living spaces requires professional skill and planning. The contractors at Lynxus Drywall & Acoustics Inc have specific experience in creating distinct apartments in old houses. This work includes:

Building new walls
Adding proper insulation
Creating acoustic sound proofing
Creating drop ceilings
In addition, the team at Lynxus respects each project as if it was their own home, and will ensure that the property is protected while renovations are underway. In addition, the team commits to thoroughly cleaning up the job site at the conclusion of the work.
When these renovations aren't done properly, not only are tenants disgruntled, leading to shorter tenancies, shoddy work can pose safety and legal risks. Toronto has a wealth of drywall contractors, but not all businesses have the experience like Lynxus to work on large projects like dividing an old home. Regardless of the size of the project, professional workmanship is essential to a happy tenant, and a property that can earn income.
About Lynxus Drywall & Acoustics Inc
Lynxus Drywall & Acoustics Inc specializes in both residential and commercial drywall installation, as well as providing soundproofing. Lynxus serves the Greater Toronto Area, and provides free estimates.