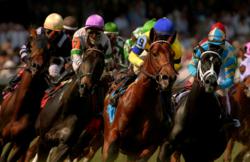 Our clients want to go the extra mile for their top performers!
Jamison, PA (PRWEB) January 30, 2013
Peak Performance Meetings today announced a significant addition to its popular travel incentive offerings. The company is recognized as a leader in innovative incentive travel programs and meeting management services. "Adding quality sporting events to our incentive travel options is a natural extension of our current popular offerings," said Bruce Rickert, President of Peak Performance Meetings & Incentives.
"We are responding to the feedback from our clients that want to go the extra mile for their top performers. Offering travel incentives is a proven motivator. We can accommodate group incentives and individual travel incentives for world class sporting events. Adding the excitement of sports incentives for milestone events is a real game-changer," Rickert added. He stressed that quality incentives make a difference to top performers who are so important to companies in today's economy. The emphasis of Peak Performance is on providing lifetime memories and the sense of a truly unique experience.
Rickert concluded, "Just imagine. It is a lifelong desire of many employees to attend some of these incredible events. Allowing them to do so as a guest of your company while showing your appreciation is the classic win-win scenario."
Peak Performance Meetings management prides itself on providing the highest quality of personalized service. The travel incentives and meeting services are tailored to the precise budget and objectives of any corporate recognition program. Their extensive experience in providing memorable and meaningful experiences can guide any client through the planning and selection process. The ability to customize group incentives and individual travel incentives provides total flexibility for your company's rewards program.
Peak Performance Services works with its clients in designing innovative ways to motivate sales teams, recognize valued clients and show appreciation to employees. The new sports incentives program is an example of seeking out ways to provide valued team members with much more than a trip. The excitement that surround sports events will combine with the expression of corporate appreciation to provide a true lifetime experience. One sure test of a winning incentive is the memories that are shared upon return to the office. Sports incentives are sure to get everyone's attention before and after the event.
About Peak Performance Services, Inc. (PPS)
Headquartered in Jamison, PA, Peak Performance Meetings is one of the nation's leading incentive travel and meeting management companies. It serves customers worldwide. It provides these services in a personalized manner to a long list of satisfied customers. The management of Peak Performance takes great pride in the repeat business from these clients, as well as the frequent referrals. These provide the best evidence of fulfilling our mission to provide unmatched personal service in providing companies from all market sectors ways to educate, learn, sell, or reward employees and clients.
For more information about general corporate incentive travel and corporate event planning and management visit http://www.peakperformancemeetings.com.
Contacts:
Toll Free: 888-788-9078
E-mail: info(at)ppsmeetings(dot)com
Website: http://www.peakperformancemeetings.com