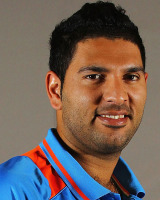 New Delhi, India (PRWEB) January 30, 2013
GoodChime! a global digital platform for personal health engagement announced that it will be launching in India on February 4, 2013 in New Delhi, with legendary cricketer Yuvraj Singh. Goodchime! will support and sponsor the Yuvraj Singh Centre of Excellence, a training programme launched by Yuvraj Singh to train budding cricketers. GoodChime! has also announced it will be launching in other cities across India in February with other major Bollywood celebrities and Indian sports figures. The innovative digital health platform launched in the U.S. about one year ago in beta with several major celebrities and athletes, including the likes of Bret Michaels, Mario Lopez, Matthew McConaughey, Adrian Peterson, CC Sabathia, Albert Pujols and many more. GoodChime! has quadrupled the size of its base in the past year with over 250,000 members, and has gained significant traction as the dominant platform to synthesize the exploding market of health tracking devices, applications, retailers.
"We are thrilled by the momentum we are gaining", said Sreedhar Potarazu, MD, MBA, Founder and Chairman of GoodChime! "to bring together an important convergence of experience in Big Health Data and the digital medium to drive constant consistent engagement in health".
India has the greatest population of people in their 30s and 40s. The incidence of diabetes, hypertension and obesity is exploding, and there is an urgent need to engage the population more proactively to manage their health. GoodChime! has partnered with national figures across the world as their Global Health Ambassadors. "I am delighted to be working with Sreedhar and GoodChime! in creating a disruptive force to improving India's health. I am thankful to Doctor Sreedhar for supporting YSCE and I am sure this support and sponsorship will help many budding cricketers," said Yuvraj Singh. "Together we will make a difference."