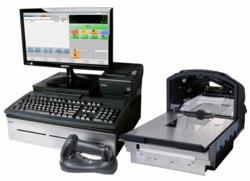 "These systems offer the performance and scalability growing stores desire."
Bellingham, Washington (PRWEB) January 30, 2013
POSGuys.com, retailer of complete point of sale solutions, announced the launch of new POS Systems for grocery stores and dispensaries. Built to meet these retailers' specific needs, both systems offer the tools necessary to improve order accuracy and manage inventory with ease.
Grocery stores and sell-by-weight dispensaries, such as medical marijuana, coffee, or spices, require additional, custom hardware, including precision scales and advanced barcode scanners. POSGuys.com paired premiere hardware and software in these new systems, taking the guesswork out of shopping for a POS system and giving retailers the best solution for their money.
Every complete POS system from POSGuys.com is pre-configured to work out of the box and comes with 1-year of POSGuys.com warranty coverage in addition to standard manufacturer warranties. Retailers also receive an hour training session with POSGuys.com technical support staff, covering the day-to-day operations as well as answering questions.
Grocery POS System:
"We have found that from corner grocers to small chains, grocery stores require high performance equipment," said Travis Chun, Director of Operations for POSGuys.com. "As such, we built the Grocery POS System to meet their demands and more. This system offers the performance and scalability growing grocery stores desire."
Powered by PCAmerica Cash Register Express software, the Grocery POS System is pre-configured to work out of the box, speeding the setup process. Cash Register Express runs on the Microsoft SQL database engine, giving you greater performance and scalability compared to other software platforms. Grocers need the ability to add lanes to alleviate waiting during checkout. Cash Register Express supports multi-lane and even multi-store operations, allowing you to expand your business as needed.
Included in the Grocery POS System:
POS Computer with software and drivers pre-installed
PCAmerica Cash Register Express Pro Software
19" Widescreen LCD Monitor
MMF Advantage Cash Drawer
Honeywell Stratos Scanner / Scale Combination
Motorola LI4278 Cordless Barcode Scanner
Epson TM-T88V Receipt Printer
IDTech Versakey Programmable Keyboard with Magnetic Stripe Reader
Dispensary POS System:
The POSGuys Dispensary POS System has the equipment necessary to meet the needs of sell-by-weight dispensaries. Products are sold in smaller quantities at higher prices, and so dispensary owners need scales with greater precision than grocery stores. The included Brecknell Medical scale is precise to two one hundredths of a gram (0.02g), ensuring customers are charged appropriately and your inventory counts stay accurate.
Proxis Store Manager Software powers the day-to-day retail operations of the Dispensary POS System, keeping accurate track of sales and inventory. The touchscreen computer included in the system makes item entry and lookup easy, especially for products that may lack barcodes. Store Manager is pre-installed on the computer, as well as any hardware drivers, eliminating the headache of piecing together and setting up a similar system.
Included in the Dispensary POS System:
All-in-one POS Computer with 15" Touchscreen Monitor
Proxis Store Manager Software
POS-X ION Cash Drawer
Pioneer Asterix Thermal Receipt Printer
Honeywell Voyager 1400g Barcode Scanner
Brecknell MBS Medical Scale with 0.02g Increment
About POSGuys.com
POSGuys.com is an industry leading point of sale solutions provider, selling complete POS systems, barcode scanners, and receipt printers. Established in 2004, POSGuys.com's expertly trained sales and support staff create custom point of sale and data capture solutions for businesses nationwide.