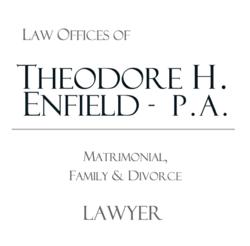 MIAMI, FL (PRWEB) January 29, 2013
Theodore Enfield, Miami Dade lawyer, has advised his clients on Florida's Alimony Reform heat up to change Florida alimony laws so that they are fair to both genders.
Florida Alimony Reform says that it simply wants parties to be able to move on with their lives following a divorce without the cord of permanent alimony tying them together. Although Florida lawmakers previously enacted laws to address the supportive relationship by allowing for modification, the changes made simply don't go far enough. Often ex-spouses find themselves financially tied to each other until the end of their days.
Permanent alimony is just how it sounds like. When it comes to divorce in Miami Florida, one spouse pays the alimony to another for the rest of their life. The nonprofit has been pushing for alimony reform since 2010 and plans to fight other family-law problems once the state reforms alimony—something its divorced founder, Alan Frisher, a Melbourne, Fla., certified divorce financial analyst, is confident will happen. The change could take place as early as this year, with a bill to end permanent alimony expected to go to a vote in the Florida legislature within a few months.
Although opponents of permanent alimony agree that there are sometimes good reasons for a spouse to receive permanent alimony (e.g., they have a disability preventing them from working). In some cases, however, when the recipient is physically capable and college-educated, it may seem as a good fate has found one person, who now has a financial support for life, while the other is an unlucky soul who now must pay for the mistake of marrying the wrong person for the rest of their life.
To achieve a constitutionally acceptable reform of florida alimony laws, Florida Alimony Reform believes that the process of dissolution is placing undue burdens on Floridians who simply wish to change their fundamental constitutional right of association and exercise their fundamental constitutional right of privacy by altering their marital status when they dissolve their marriage.
Florida Alimony Reform is seeking the following changes to existing laws:

Removal of permanent alimony from current statutes
The need for alimony payers to have the right to retire at Federal Retirement Age or standard retirement age for high risk professions
A defined amount on a formula that is fair, and that averages income for both spouses
Second spouses' income shall not be used to calculate an upward modification of alimony
The right to modify a current judgment
Make the law retroactive so that those saddled with alimony payments can get payments modified to comply with the new law.
Alimony payment for mid-term and long-term marriages should be set at 50 percent the length of the marriage as the default duration.
About Theodore H. Enfield: With more than 30 years of experience helping Florida families deal with family law issues such as divorce, equitable property settlement, child custody, child support and domestic violence, Theodore Enfield, one of the respectful divorce lawyers in Miami, has advised his clients through all modifications and issues that are likely to arise during those difficult times.
For questions regarding Alimony Florida contact Theodore Enfield by calling 305-933-9592, 800-733-5299 or filling up a short contact form at http://www.theodoreenfield.com/