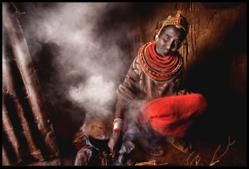 The United Nations Foundation's - Global Alliance for Clean Cookstoves reports that nearly three billion people still cook over an open fire, yet this age-old method of cooking ranks as the planet's fifth largest killer.
(PRWEB UK) 30 January 2013
In a cruel paradox that touches half the world's population daily, the mere act of preparing a family meal can prove life threatening. The Global Alliance for Clean Cookstoves reports that nearly three billion people still cook over an open fire, yet this age-old method of cooking ranks as the planet's fifth largest killer. (http://www.cleancookstoves.org/our-work/the-issues/environment.html)
The victims of chronic exposure to toxic smoke, or household air pollution (HAP), are primarily women and young children. The death toll is staggering: four million lives lost worldwide to HAP every year – double previous estimates, according to results of the Global Burden of Disease 2010 study, published in The Lancet. (http://www.cleancookstoves.org/media-and-events/press)
"BLACK INSIDE: Three Women's Voices" was commissioned by the Global Alliance for Clean Cookstoves, an initiative led by the United Nations Foundation and launched at the Clinton Global Initiative in 2010 by former U.S. Secretary of State Hillary Clinton. The twelve-minute documentary short lends an intimate perspective to an urgent global public health and environmental challenge – demonstrating that, apart from sheer numbers, the key to saving lives is astonishingly simple by adopting clean cookstoves. (Please visit http://www.blackinside-thefilm.com/.)
Rather than focus on the needless suffering associated with traditional cooking practices, director Rodney Rascona points to solutions. As an award-winning photographer with a long resume of both advertising and humanitarian projects around the world, Rascona was selected for the project because of his unique ability to portray such a massive problem on a human scale. Committed to giving a voice to the faceless millions for whom breathing toxic fumes is a life-or-death issue, the filmmaker and his crew embraced the two-month project, undertaking arduous journeys to remote areas on three continents to document captivating vignettes of a trio of strong, resilient women.
Despite geographical and cultural differences, the three belong to a vast sisterhood whose uniquely personal stories mirror epic global issues: HAP as well as poverty, women's and children's health, deforestation, carbon emissions and sustainable change. Also of serious concern is the never-ending labor women endure – the risk of personal assault and even death – when walking alone in the wilderness in search of fuel. In many areas of the world, women travel 10+ miles per trip and spend more than 30 hours per week collecting 40- to 60- pound bundles of wood to carry home on their backs. (http://www.theparadigmproject.org)
With compassionate insight, the film presents the women's aspirations and newfound hope for their families' health and future, thanks to the clean-burning stoves. Sarah lost both her mother and sister to lung cancer. "The old stoves, they make this world black. They also make us black inside," says the Gabra tribeswoman, who tends to her family in a small village located in the drought-ravaged lands of Kenya's northern deserts. "If it was my wish, everyone would have a clean cookstove."
Cooking with traditional wood-burning stoves is not limited to rural environments, however. In Vandana's urban home not far from the Nepalese border in bustling, colour-drenched India, the benefits of her new stove are, literally, cause for celebration. And finally, half a world away we meet soft-spoken Monica, a "campesino" whose humble, dirt-floor dwelling is perched on the mist-shrouded cliffs of the Peruvian Andes.
In addition to saving countless lives, clean cookstoves empower women by saving time and money – scarce resources in developing nations. Despite vast geographical and cultural differences, the three women share a common desire to use these precious gifts to invest in their children, improve the lives of others, or even generate much-needed income. "Something," Vandana declares triumphantly, "that shows that we matter."
Joining Rascona in the project were screenwriter Russ Haan and London-based producer Phil Tidy of Urchin Productions, who brought together an international post-production team that included film editor Warren Meneely, Goldcrest Post London and Prime Focus London. In-country ground logistics were provided by The Paradigm Project, GIZ Peru, Food for the Hungry Kenya, and The Energy and Resources Institute (TERI). You can find a complete list of global partners, as well as a Director's Statement, at the website.
ABOUT RODNEY RASCONA
Award-winning photographer/director Rodney Rascona has utilised his more than three decades of professional experience to help raise revenue and awareness for relief and development organizations around the globe. In addition to his charitable projects, Rascona continues to produce leading work for an international roster of advertising clients. Rascona was named 2010 International Photographer of the Year: Deeper Perspective by the Lucie Foundation for "The Pink Door Photographs," a poignant collection of iconic portraits featuring earthquake survivors in Haiti (http://www.prweb.com/releases/2010/12/prweb4853474.htm?PID=6146812).
Rascona's team is currently in pre-production on a feature-length documentary about the burgeoning cookstove movement. "BLACK INSIDE" will lay out the arguments, the issues and the solutions presented by the brilliant minds engaged in this social imperative.
For more information about Rodney Rascona, please visit http://www.rascona.com.
For US assignments contact: Rodney Rascona - director(at)blackinside-thefilm(dot)com
For UK/EU assignments contact: Phil Tidy - producer(at)blackinside-thefilm(dot)com
ABOUT THE GLOBAL ALLIANCE FOR CLEAN COOKSTOVES
The Global Alliance for Clean Cookstoves is a public-private partnership led by the United Nations Foundation to save lives, improve livelihoods, empower women, and preserve the environment by creating a thriving global market for clean and efficient household cooking solutions. The Alliance's '100 by 20' goal calls for 100 million homes to adopt clean and efficient cookstoves and fuels by 2020. The Alliance is working with its hundreds of public, private, and non-profit partners to help overcome the market barriers that currently impede the production, deployment, and use of clean cookstoves and fuels in developing countries. Learn more at http://www.cleancookstoves.org.
Igniting Change Report - A Strategy for the Universal Adoption of Clean Cookstoves and Fuels: http://www.cleancookstoves.org/ignitingchange
NOTE: ALL IMAGES ALL RIGHTS RESERVED: ©2013RodneyRascona