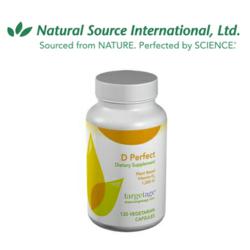 New York, New York (PRWEB) January 30, 2013
Natural Source International offers D Perfect, the ideal solution for those who lack their vitamin D.
Vitamin D is critical in order to maintain a healthy immune system.
According to research studies conducted in the U.S. and abroad, more than one billion people in countries around the world are vitamin D deficient. Researchers say most Americans are not entirely deficient, but receive less than the optimum daily level of one of nature's most important nutrients.
During the last ten years, new findings have emerged to demonstrate that vitamin D plays a pivotal role in building and maintaining the body's immune defense system. A good diet, including adequate amounts of Vitamin D, promotes good health and prevents the onset of disease.
"There is an overwhelming body of evidence that clearly shows that although more than 90% of our daily needs of Vitamin D can be met through our skins exposure to the sun, inadequate intake remains all too prevalent," said Sylvie Beljanski, President of Natural Source International, a leading provider of cutting edge, nutritional supplements. "It is an essential vitamin with multiple health benefits and we are delighted to have extended our D Perfect promotion through February 15 to help everyone get their best source of daily D."
D Perfect nutritional supplement from Natural Source International contains only the fully natural vitamin D3, extracted from a vegetable source, Lichen. It is important to note that D Perfect is made of vitamin D3, and not D2 as is found in many other brands. D3 has been shown to be better absorbed than D2, and D Perfect comes exclusively from plants, so it is strictly vegetarian and vegan. In fact, D Perfect may be one of the most natural and healthy nutritional supplements of vitamin D.
If you want to get the very best vitamin D, Natural Source International is making D Perfect even more perfect. The company is extending its 25 percent discount offer through February 15, an extra 24 hours beyond Valentine's Day to give yourself and those you love a gift that keeps everyone on track for optimum health.
Readers who would like more information about D Perfect should visit [http://www.natural-source.com.
About Natural Source International
Inspired by the meticulous, exhaustive scientific research conducted by pioneering French molecular biologist Dr. Mirko Beljanski, Ph.D., Natural Source International's products are designed to help shield consumers from the world's damaging environmental factors, including stress agents, pollution, nutrient depletion, and more. The company's products are specifically formulated to aid the body's immune system and work with its natural healing mechanisms. For more than 15 years, Natural Source International has applied those same principles to the continuous development of innovative dietary and nutritional supplements and personal care products to consumers. Beljanski Products, the Targetage natural supplements and the body care French Secret products are all formulated to blend scientific advancements with nature's supportive, healing ingredients. Readers who are interested in learning more about Natural Source International, Ltd. and its products are encouraged to visit http://www.natural-source.com.
# # #
EDITOR'S NOTE: To speak with Sylvie Beljanski, or to obtain more information about D Perfect, Natural Source International, Ltd. and its other fine nutritional products, please contact Nancy Trent or Pamela Wadler (212) 966-0024, or at pam(at)trentandcompany(dot)com.
From:
Nancy Trent/Pam Wadler
Trent & Company, Inc.
594 Broadway, Suite 901
New York, NY 10012
(212) 966-0024
info(at)trentandcompany(dot)com