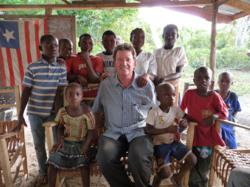 If we can just help or save one child who doesn't have a lot of hope, it's worth it
Orange County, CA (PRWEB) January 29, 2013
Orange County business Bird-B-Gone Inc®, the world's largest manufacturer of commercial-grade bird-control products, continues to improve the lives of some of the poorest children in Africa through its partnership with nonprofit organization Children of the Nations® (COTN®).
Bird-B-Gone owner and CEO Bruce Donoho recently confirmed a commitment to fund and establish several vital buildings on the Banta (Sierra Leone) site that are needed to grow the organization's ability to support children. Teacher's quarters will be built, providing accommodations for more teachers on site. Bird-B-Gone has also committed to building more children's dormitories to support the inclusion of even more children into the organization.
Donoho has been a committed advocate of COTN since he heard the organization's founder, Chris Clark, speak at his church, Presbyterian Church of the Master, in 2008. Since then, Donoho has traveled to COTN's ministry site in Sierra Leone, West Africa, and funded numerous projects there including a brick building machine, a water pump, a new guesthouse and solar electricity panels for COTN's Children's Homes. These projects have improved the health and education of the children COTN serves by providing them with clean water and electricity, and allowing more teachers, doctors, and other volunteers to visit and provide care. Bird-B-Gone's staff has also lent its expertise to help COTN run its ministry more efficiently, thereby raising the level of care the children receive.
Children of the Nations serves several impoverished villages in Sierra Leone. These communities will continue to benefit from Bird-B-Gone's gifts long into the future, as their children grow and become better equipped to lead and become agents of positive change. Lasting change through the empowerment of youth is COTN's goal in each of the communities it serves, and Bird-B-Gone demonstrates a commitment to that same goal through its partnership.
Last year, Donoho took his commitment to care for children even deeper by joining COTN's board of directors. "This started out as, 'If we can just help or save one child who doesn't have a lot of hope, it's worth it,'" Donoho says. "It's turned out to be even bigger than that."
----
Children of the Nations is a nonprofit organization dedicated to raising children who transform nations. The organization currently serves in Sierra Leone, Malawi, Uganda, the Dominican Republic, and Haiti, providing holistic care to orphaned and destitute children. For more information, visit http://www.cotni.org.
For more information, contact:
Pam Wright, Senior Director – Advancement
360-698-7227 / pamwright(at)cotni.org