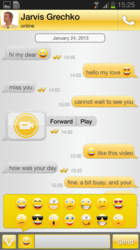 Our goal is to provide our users with the best and most comprehensive one stop app for all your calling, messaging, and conferencing needs.
(PRWEB) January 30, 2013
Free SMS messaging and international calling app provider VPHO announces they have addressed some of the issues and concerns raised by VPHO app users.
"Our goal," said Eliran Hadar CTO and project manager, "is to provide our users with the best and most comprehensive one stop app for all your calling, messaging, and conferencing needs. This latest version corrects some glitch issues users were reporting and adds some additional fun features to make each user's experience more personal."
New updates to the VPHO app versions remain very stable after implementing several new features and improving the overall appearance of the application.
VPHO version 1.6 is now available for free at the GooglePlay. Some advanced features added to the download are enhanced text messaging by giving users the ability to communicate with emoticons.
In the Chat Activity, user is able to "GeoLocation", "Last Seen time and date" and "On line" his friends in VPHO while chating.
Additionally, users can now alter the background of their chat page according to his or her preferences in order to further facilitate customization of the look and feel of VPHO for any user.
The user profile window has also been redesigned to look even better and attractive to see. "We make your profile picture bigger because that's what the important part of a Profile Page should be," says Eliran Hadar. "The background of the Profile Header will be a static yellow but this will be enhanced to accommodate user selecting their background picture."
On VPHO v1.6.1 for iOS users may see, that the chat history loading time is reduced, and call history window added. Users can now share the VPHO app with Twitter friends provide a rating and review for the app directly from the profile window.
Along with these new additions, VPHO has made updates that will allow the user to select the level of privacy that they choose in an effort allow their presence to be completely visible on all platforms remove them from the search function all together.
"We love what we doing. We are following our millstone to improve VPHO quality and user experience with more coming up features," says Eliran Hadar.
VPHO is available for Free. Updates and product news may be found on their Facebook, Twitter, and Google+ pages.
About VPHO:
VPHO, the "Appsolutely All" around solution to mobile video communication, combines the useful features of each of its leading competitors into one single functioning app. With VPHO, users are able to use and enjoy all-in-one communication for 3G, 4G, and Wi-Fi access. The app allows users to communicate with friends, family, and business professionals around the world through voice and video calls with crystal clear precision.
Other features include high-quality messenger features for text, video and audio messaging, and file sharing. Additionally, the VPHO app includes video and voice conferencing – something offered by no other app currently available.