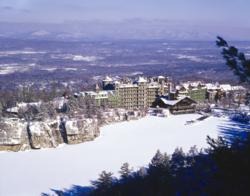 Locavore Weekend is a fantastic way to indulge in the richness of Hudson Valley cuisine.
NEW PALTZ, NEW YORK (PRWEB) January 29, 2013
The historic Mohonk Mountain House, which sits on the Shawangunk Ridge in New York's Hudson Valley and was recently named the Number Two Resort Spa in the US by Condé Nast Traveler, is hosting Locavore weekend February 1-3, 2013. The event will feature demos from Mohonk Mountain House Executive Chef Jim Palmeri and "Hell's Kitchen"™ Season Ten Runner-Up, Chef Justin Antiorio. There will also be a spirits tasting by Noah Rothbaum of Liquor.com and a "Local Flavor" expo with local food and spirits and displays from local artisans and crafters. Enjoy music from Big Joe Fitz & the Lo Fi's, one of the Hudson Valley's finest bands, and get to know a variety of local vendors, including:

Kiss My Face
Tuthilltown Spirits
Touseya Winery
Newburgh Brewery
Acorn Hill Farm
Spacey Tracy's Pickles
Chef's Consortium
Full Moon Farm
Adirondack Creamery
Peace, Love and Cupcakes
Crown Maple
Coach Farm
Warwick Valley Winery and Distillery
Locavore Weekend is just one of over 40 programs offered throughout the year at Mohonk Mountain House, ranging from music, to dancing, to food and more.
Inclusive rates feature breakfast and lunch buffets with dinner as a traditional served meal, afternoon tea and cookies, and most activities, which include yoga, fitness, meditation classes, use of the hotel's indoor heated swimming pool, and more.
Guests who book accommodations now will receive 15% off regular rates. Discounted rates start at $238 per person, per night, double occupancy, based on a two-night stay (taxes and gratuity additional).
When making reservations, please specify LOCAVORE WEEKEND in order to receive the discount.
"Locavore Weekend is a fantastic way to indulge in the richness of Hudson Valley cuisine," said Nina Smiley, Director of Marketing. "Come experience locally-sourced, sustainable ingredients and the beauty of the region while learning from our most prized vendors."
Learn more about Locavore weekend here and make a reservation today.
About Mohonk Mountain House:
Mohonk Mountain House is a historic resort located in New York's Hudson Valley on the Shawangunk Ridge only 90 miles north of New York City. Featuring 259 charming guest rooms, including 21 tower rooms, the Victorian castle resort is ideal for leisurely vacations, romantic getaways, gatherings and more. The property features an indoor heated pool, an award-winning, eco-friendly Spa, a comprehensive fitness center and a variety of themed events throughout the year, ranging from music, to dancing, to food and more. Recreation activities onsite include complimentary ice-skating in an open-air pavilion, cross-country skiing, snowshoeing, snow tubing (weather dependent), yoga, meditation, and fitness classes and much more. For additional information, please call 800.772.6646 or visit http://www.mohonk.com.