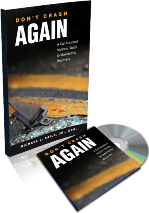 Auto insurance companies will do whatever it takes to minimize or eliminate your personal injury claim. An insurance company's business goal is to remain profitable by paying as little as possible on your claim. If you are no
Langhorne, PA (PRWEB) January 31, 2013
Michael L. Saile, Jr., of Saile & Saile LLP, recently published a book, "Don't Crash Again! A Car Accident Victim's Guide to Maximizing Recovery," available on his website (http://www.pa-nj-injurylawyer.com/reports/how-to-maximize-your-pa-car-accident-case.cfm). Readers do not need a law degree to understand the practical, no-nonsense insights and instructions offered. Mr. Saile reveals the proper steps to take and answers to common questions that help to keep money in the pocket of the innocent accident victim so that he or she can be in the best position to recover fair compensation. Its focus is to clarify for accident victims topics such as:
-Exactly what to do after an accident
-What to say and more importantly what NOT to say to an insurance company
-How to determine insurance coverage
-What to do about medical bills
-How to find the right doctor to treat injuries, and more.
In the section, "Do I Have a Case?" Michael L. Saile, Jr., Esq. writes, "Under many state laws including Pennsylvania and New Jersey, you must file a car accident injury complaint with the court (begin a lawsuit) on or before the second anniversary of your car accident. There are some limited circumstances where this rule does not apply." For the injured accident victim, simply knowing this information may provide a measure of comfort.
In an effort to level the playing field between powerful auto insurance companies and the inexperienced auto accident victim, Mr. Saile offers his new book free to anyone who was recently injured in an accident.
The Bucks County personal injury Law Firm of Saile & Saile LLP focuses on accident cases in Pennsylvania and New Jersey. The award winning lawyers at Saile & Saile LLP help victims of auto, truck and motorcycle accidents, pedestrian and bike accidents to recover fair compensation against insurance companies.
Saile & Saile LLP gives away information to anyone who has been injured in an accident in Pennsylvania or New Jersey. We offer a free download of our PA Car Accident book titled "Don't Crash Again: A Car Accident Victim's Guide to Maximizing Recovery" at http://www.pacaraccidentbook.com. Saile & Saile LLP has also published informative videos on our injury website.