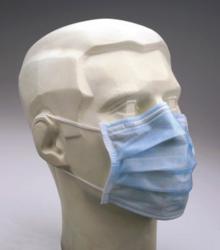 London, United Kingdom (PRWEB) January 30, 2013
The worst of the winter vomiting bug has died down recently, but the bug is still strong enough and contagious enough to close entire wards at hospitals and to put small businesses out of action for a spell. Getting through the Christmas period does not mean people are out of the woods if they have not yet suffered as part of the norovirus breakout. The Glove Club stocks a wide range of products which are specifically targeted to infection control.
What makes norovirus so prevalent at this time of year is the ease with which it is passed on. The winter vomiting bug is incredibly contagious and so it is easy for groups of people that come into contact with one another even in passing to spread the virus.
The best way to avoid contracting norovirus is to take a very proactive approach to infection control. The experts hold that people who wash their hands regularly and use antibacterial gels stand a good chance of escaping the virus. However, it's also important to disinfect surfaces and accessories that are used regularly – this includes desks, door handles and so on.
The experts also advise people against sharing towels at this time of year and to keep tissues handy in order to catch coughs and sneezes. The team at http://www.gloveclub.co.uk has introduced all sorts of infection control products from disinfectants to latex gloves as a means of helping people to manage infection at home and in the workplace.
The Glove Club has been manufacturing and supplying disposable medical grade gloves and healthcare accessories for homes, businesses and public spaces since 1994.
About Glove Club Ltd
The Glove Club has been a manufacturer, wholesaler and distributor of medical grade disposable products since 1994. Its experience and expertise of supplying products to a wide range of customers makes it a cut above the rest. In its 18 extensive years of business they have been a leader in latex, nitrile and vinyl gloves, all made to a medical grade (AQL 1.5) and many everyday disposables like masks, paper towels and aprons. They supply to dental practices, nursing homes, funeral directors, veterinaries, hospitals, GP's and even the general public.
Users of disposable consumables can contact The Glove Club on 0500 456 832 or by accessing the new website at http://www.gloveclub.co.uk.
Manoj Parmar, Marketing Manager
Glove Club Ltd
+44 208 991 4303
http://www.gloveclub.co.uk