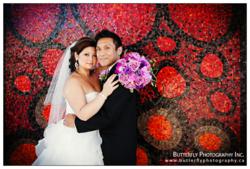 There is no point in deciding what kind of photography you want until you consider what your budget will permit.
Vancouver, BC (PRWEB) January 31, 2013
While spring and summer are popular seasons for weddings, January and February are prime booking months for Vancouver wedding photography, according to Martin Gregorian, owner of Vancouver's Butterfly Photography.
He says that when it comes to creating wedding memories that will last forever, it is essential to take the time to make the right choice of a wedding photographer, and making plans well in advance of the day is the best way to ensure the best results.
Martin says there are a number of essential things that have to be considered to ensure the very best photographic results at any wedding:
1) Start with a budget: There is no point in deciding what kind of photography you want until you consider what your budget will permit. Weddings in large cities like Vancouver can be expensive so the cost has to be considered from the beginning. Martin says this is why his company offers options that are accessible to most budgets.
2) Decide on a photographic style: There are a number of different styles of Vancouver wedding photography that any couple can choose from. One favoured by Butterfly is a more natural, documentary approach. This wonderfully captures the spirit of the day and is less intrusive. But the couple can decide on any style they want, including which types of poses, angles, and finishing styles they prefer.
3) Choose a photographer you feel comfortable with: There are so many things to plan for when you're getting married, so it's essential for most people that they feel personally comfortable with the Vancouver wedding photographer they have chosen. Having someone you like and trust means you have one less thing to worry about.
4) Review your photographer's body of work: Ensure that you get results you expect by choosing a photographer whose work you love and whose style you appreciate.
5) For the bride – have your hair and makeup done by professionals: Your Vancouver wedding photographer will get the best results when you look your best. Gregorian says that your wedding photos will look much better when hair and makeup are done correctly.
6) Hire a wedding planner to reduce wedding day stress: with a professional to take care of the countless details, you are free to relax and to enjoy the day. And by not being stressed, your photographs will look much better. Getting enough sleep the night before makes a big difference to the results your Vancouver wedding photographer can get for you as well.
7) Choose special locations for your photographs to be taken: many bridal parties will want posed shots in a visually attractive setting. In Vancouver, Stanley Park is popular because it offers such a variety of settings that lend themselves to memorable photographs. It also helps if the location has some personal importance to the couple.
For more information, contact Martin Gregorian at 604-593-6033 or check out the Butterfly Photography web site: butterflyphotography.ca.
About Butterfly Photography
Martin Gregorian created Butterfly Photography in 2006. Since then, he has become known as one of the top Vancouver wedding photographers winning WeddingWire's Bride's Choice Award in 2012 and 2013.