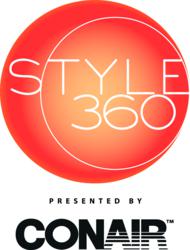 We are thrilled for another exciting fashion week season, and welcoming CONAIR as our title sponsor this February 2013
New York, New York (PRWEB) January 29, 2013
A-List Communications (http://a-listcommunications.com/) is pleased to announce STYLE360's semi-annual New York Fashion Week showcase for Fall/Winter 2013 Collections, in February. Joining A-List Communications as a new Presenting Sponsor, Conair Corporation, will be partnering with STYLE360 to unveil their new collection of "Infiniti Pro by Conair" styling tools. The new collection presents the latest technology of professional quality curling irons, straighteners and hair dryers, that are designed to create luscious curls, silky straight hair or voluminous frizz free blowouts.
Kicking-off Style360 presented by Conair this February is a fantastic line-up of high profile fashion shows and celebrity hosted industry parties on February 11th-13th, 2013:
Monday, February 11th
8 pm - 10 pm: YARNZ Fashion Presentation and Launch Party at Haven Ski Chalet at The Sanctuary Hotel
Tuesday, February 12th
11 am: Tumbler & Tipsy by Michael Kuluva Fashion Show
3 pm: Ashton Michael Fashion Show
7 pm: FrontRow by Shateria Moragne-el Fashion Show
Wednesday, February 13th
10 am: VOZ and Maison de LaCour Fashion Show
2 pm: Boy Meets Girl® by Stacy Igel the "Invasion Collections" Fashion Show with live performance by Leah Labelle
6:30 pm: Junk Food Art House and Sony Pictures Entertainment presents "Le Smurfette" curated by Lois Sakany & Sami Grand-Pierre of Highsnobette.com
8 pm- 11 pm: "Le Look Smurfette" After Party at Rosewood
In more detail, the schedule kicks off the Fall/Winter fashion season with a fashion presentation and cocktail party hosted by contemporary accessories line, YARNZ at Haven Ski Chalet of official hotel partner, Sanctuary Hotel. Renowned for its thematic printed cashmere scarves, YARNZ's loyal following includes Madonna, Scarlett Johansson, and Sarah Jessica Parker. Collections can be found at leading retailers including Bergdorf Goodman in New York, Colette in Paris, Liberty of London, and Takashimaya in Japan.
On February 12th, day two of STYLE360 presented by Conair jump-starts with professional figure skater and incumbent fashion designer, Tumbler & Tipsy by Michael Kuluva at 11 am. This sultry and stylish brand took fashion week by storm last season with a "Just Dance 4" inspired show featuring newly gold minted Soccer Olympian Alex Morgan, "Keeping Up with the Kardashians" star Kendall Jenner, and British pop star, Cher Lloyd performing her debut single 'Want U Back'.
Following will be the debut show of Ashton Michael by Ashton Hirota for Conair Style360 at 3 pm with his latest capsule collection. Ashton Michael is known for his unique and one-of-a-kind pieces tailored for a wide range of public images such as Will.iAm , Nicki Minaj, Usher, and Chris Brown. With surprise guests attending and walking, this show will bring the stage to the runway. FrontRow by Shateria Moragne-el will round out the day with their highly anticipated presentation at 7 pm, incorporating signature clothing for the confident consumer that "never settles for anything less than the front row." FrontRow debuted at last season's STYLE360 with an accompanied performance by JoJo and attendance by brand-fans like super-model Jessica White. Both shows promise celebrity surprise appearances.
February 13th will begin with a joint show with VOZ and Maison de LaCour at 10 am. VOZ is a luxury brand that creates eco-friendly, hand-made, beautiful pieces while using new methods to empower women around the world. Maison de LaCour pushes fashion boundaries by combining couture finishing techniques, creating a dynamic line unlike any other labels on the market. The always highly anticipated fashion meets music show by Boy Meets Girl® by Stacy Igel will follow at 2 pm with the "Invasion Collections" inspired by the "BritPop" music scene of the early 90s. The fashion show will host a special performance by Epic Recording artist and American Idol alumni, Leah Labelle while strutting edgy, yet stylish pieces on the runway that appear in major publications such as WWD and Teen Vogue.
Immediately following is the Junk Food Art House and Sony Pictures Entertainment Fashion Show "Le Look Smurfette" curated by Lois Sakany & Samia Grand-Pierre of Highsnobette.com. In anticipation of the Smurfs 2 in theatres July 31, the show will reflect Smurfette's spunk and undeniable cute factor with hints of Parisian accents from the movie. The collection mixes couture and high-end label aesthetics with street wear elements to create a look that presents Smurfette as an icon of style and fun. A blue-carpet after-party for the "Le Look Smurfette" fashion event will follow at 8 pm at NYC's newest hot spot, Rosewood, located at 5 East 19th Street.
For more information on this season's designers and view runway trends please visit ELLE.com/STYLE360. Twitter @NYFWSTYLE360 , Instagram @nyfwstyle360 , and Facebook @STYLE360.
All fashion shows will be styled by Conair's professional hair team (http://www.conair.com). James Vincent will be the key makeup artist with the official makeup partners, Kevyn Aucoin Beauty (http://www.kevynaucoin.com) and AOFM PRO (http://www.aofmpro). Official sponsors also include Harman/Kardon Headphones (http://www.harmankardon.com) and Jarlsberg Cheese Lite (http://www.jarlsbergusa.com), a sponsor that will show fashion week attendees why it has been a #1 selling cheese in the US for 45 years. Photo and promotional support will be provided by newspaper partner, the New York Post (http://www.nypost.com).
STYLE360 presented by Conair's official hotel partner, is the luxurious Sanctuary Hotel (http://www.sanctuaryhotelnyc.com) and official nightclub sponsor Rosewood (http://www.rosewoodnyc.com). All fashion shows will be hosted at STYLE360 presented by Conair Fashion Pavilion, located at 125 West 18th Street.
About A-List Communications LLC
A-List Communications (http://a-listcommunications.com/) is a full-service consulting, special events & communications agency with offices in Los Angeles, Dallas and New York City. With over 15 years of global agency experience, A-List Communications specializes in connecting corporate brands with results-driven communication strategies, and globally recognized celebrities that elevate their clients to the A-List. Core to A-List Communications success is delivering "Brand Integration" services across a portfolio of propriety branded entertainment programs including "Fashion Week STYLE360," "Supper Series" and "The Arts & Cinema Centre."
About Conair
Conair Corporation began in 1959 as a small hair appliance and hair care company. Today Conair is a multinational corporation with annual gross sales of over $2 billion. Headquartered in Easy Windsor, New Jersey, with sales and marketing operations in Stamford, Connecticut, Conair is respected around the world as one of the largest manufactures and distributors of personal care and professional hair and grooming products, and premium kitchen electrics and cookware. Conair products currently sell in 101 countries on six continents (http://www.conair.com).
About the New York Post
The New York Post, founded by Alexander Hamilton in 1801, is the oldest continuously published daily newspaper in the United States. The Post is available in print; online at NYPOST.com and via iPad and iPhone applications. The Post gives readers a unique and lively mix of local and national news, Page Six, Best Sports in Town plus entertainment and business coverage. The New York Post is owned by News Corporation, one of the world's largest media conglomerates (http://www.nypost.com).
About Kevyn Aucoin Beauty
Kevyn Aucoin's vision is to bring timeless glamour, worldly beauty and exceptional tools to the hands of every woman. We seek to ignite and arouse her stunning possibilities with our collection of luxurious products crafted from the finest ingredients and formulas.
Kevyn's distinct approach to beauty was apparent in his work and to the many women whose lives he touched. Makeup, he believed, carried with it the powerful ability to unlock brilliant possibilities inside every woman. His vision to make every woman feel beautiful no matter what.
Today, we continue to bring this vision to life by creating luxurious, high quality products that allow women to tap into themselves and their individuality. Explore, inspire, and evoke your essence with Kevyn Aucoin (http://www.kevynaucoin.com).
About AOFM PRO
The Academy of Freelance Make Up (AOFM) is an association comprised of some of the world's leading makeup artists who teach their industry experience and know how to new talent. These artists form the AOFM Pro Artist team. With years of experience in the high fashion industry they believe in using only the very best quality professional tools in order to achieve the highest standard of work. This is why the AOFM Pro Artist team have designed a range of their very own Pro products to meet the needs of professional makeup artists. Before doing this these artists tried and tested and continue to use these products on major catwalk shows in London, Paris, New York and Milan, as well as on top designer shows and world-leading fashion magazines such as Vogue, Tattler and Harper's Bazaar. Every AOFM Pro product has been individually designed by a selection of the best artists in the business to meet the needs of any professional or aspiring makeup artist (http://www.aofmpro.com).
About Jarlsberg Cheese
Jarlsberg has been exported to the US for over 45 years and is America's #1 selling brand of specialty cheese. Claiming the highest awareness among U.S. consumers over any other imported cheese in the U.S., the mild, nutty & unique taste-unlike any other domestic or imported cheese- is a testimony to the quality and consistency of the Norwegian cheese producers behind this famous brand. Norwegian cheese has been imported to the United States since 1940 and reached 1.5 million pounds of exports by 1969. These exports included Norvegia, Gjestost and Nokkel. Jarlsberg was introduced to the U.S. in 1965 (http://www.jarlsbergusa.com).
About Harman/Kardon
HARMAN (http://www.harman.com) designs, manufactures and markets a wide range of audio and infotainment solutions for the automotive, consumer and professional markets – supported by 15 leading brands, including AKG®, Harman Kardon®, Infinity®, JBL®, Lexicon® and Mark Levinson®. The company is admired by audiophiles across multiple generations and supports leading professional entertainers and the venues where they perform. More than 20 million automobiles on the road today are equipped with HARMAN audio and infotainment systems. HARMAN has a workforce of about 13,400 people across the Americas, Europe and Asia, and reported sales of $4.4 billion for the year ended June 30, 2012.
About Rosewood
Located in the heart of the Flatiron district, The Rosewood takes its inspiration from the whims of the glamorous European glitterati along with the aristocratic British Victorian era. Designed by Gregory Okshteyn of Studios Go, the newly redesigned 3,000 sq. ft. interior features a cleverly lit rose petal designed ceiling along with wood panel and copper plated corridor. The comfortable deep buttoned banquet seating provides the lounging experience.
Decadent and chic are just some of the words that best describe Rosewood lounge. From its amazing cocktails and state of the art sound system to the elegant and stylish finishing of the seating and bar area, The Rosewood provides an enticing experience (http://www.rosewoodnyc.com).
About Sanctuary Hotel
The Sanctuary Hotel, recipient of TripAdvisor's 2012 Certificate of Excellence Award and honored as the International Hotel of the Year at the 2011 European Hospitality Awards, is the newest boutique hotel concept from Hank & Brandon Freid of the Impulsive Group. The stylish & intimate Sanctuary Hotel is a true refuge within NYC, offering personalized service and European-inspired hospitality curated by native New Yorkers.
Each of The Sanctuary Hotel's 111 rooms features a modern design aesthetic & lavish amenities including imported marble countertops, opulent crystal chandeliers, Frette bed linens, HD flat screen TVs and iHome stereo systems. Guests of the hotel can indulge in their dedicated Bentley car service as well as the S.T.A.R. Experience Program (Service Tailored to Any Request) - a one-of-a-kind, five star concierge service - to help make their stay a truly memorable one. In addition, guests are offered complimentary daily membership to Equinox fitness club and access to Haven, the hotel's serene & swanky rooftop lounge & restaurant, and the new Sanctuary Ultra Lounge located on the lobby level. For more information please call (212) 234-7000 or visit http://www.sanctuaryhotelnyc.com/ .