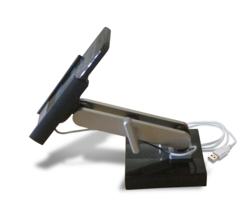 unique built-in charger and solid granite base
Healdsburg, CA (PRWEB) January 30, 2013
Cool Invent, LLC, has today unveiled their newest VERSI creation, an elegant iPhone 5 stand that perfectly complements Apple's beautiful device. The new stand is completely in line with the company's previous creations, featuring innovative materials, second to none craftsmanship and industry-leading durability.
One of the things that make Cool Invent, LLC's VERSI products stand out from the glut of other accessories on the market is the company's dedication to utilizing quality materials in construction and have incorporated a built-in charger into the stand itself. That dedication is apparent from the first glance. The VERSI iPhone 5 stand features a base made of solid granite for stability and peace of mind. Moreover, consumers will find CNC-machined aircraft-grade anodized aluminum ball lever arms for versatility, which ensures that users do not have to worry about suction cups or fear that their wobbly, plastic stand will fall, damaging their iPhone 5.
Other significant features that differentiate the VERSI iPhone 5 stand from other options on the market, besides the fact that it has a built-in charger and Lightning connector, is it's unique ball joint lever arms, made from CNC aircraft grade anodized aluminum, which allows the user to tilt, swivel and rotate the iPhone 5 in virtually any direction. That means users never needs to fuss with loose cables – they can simply slide the iPhone into the charger and they're done. Finally, like the rest of Cool Invent's products, the new VERSI iPhone 5 mount and stand are 100% manufactured in the US.
According to Dale Rorabaugh, maker of the iPhone 5 stand, as well as the company's iPad stand and other accessories, "We're very proud of our new iPhone 5 stand. It complements Apple's innovative products and offers best-in-class usability, stability, longevity and aesthetics. I paid special attention to the materials and craftsmanship, and I think the results speak for themselves."
Cool Invent, LLC is no stranger to the world of Apple product accessories. The company has made waves with their other innovations, including their elegant iPad stand (which doubles as a docking station), as well as the Dual Stand, a unique solution designed to charge both an iPad and an iPhone simultaneously.
To find out more about Cool Invent, LLC's new iPhone 5 stand or the company's other VERSI products, visit http://www.Cool-Invent.com.
About Cool Invent, LLC:
Dale Rorabaugh, founder of Cool Invent, LLC, created VERSI in 2010. Dale wanted to bring to market better, more elegant Apple accessories that were versatile, ergonomic, revolutionary, stable and iconic. Thus, VERSI was born and today offers a broad range of elegant, durable solutions for discerning consumers.