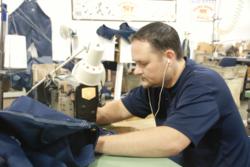 Customers around the world know the value and strength of American made jeans and workwear.
(PRWEB) January 29, 2013
For its 110th anniversary, Round House, the nation's largest maker of Made in USA jeans with over 2,000 retailers, is expanding its Shawnee, Oklahoma factory.
Round House Jeans anticipates adding 40 factory jobs making jeans, overalls, and workwear. Expansion should be complete by June.
Prior to expansion, Round House Jeans currently employs over 80 making a variety of workwear including jeans, dungarees, bib overalls, childrens' bib overalls, Realtree AP camouflage, Mossy Oak Break-Up camouflage, caps, t-shirts, shop aprons and more.
Founded in 1903, and always locally owned, Round House Made in USA Jeans is Oklahoma's oldest manufacturer still operating.
Round House Jeans sells to over two thousand retailers across the United States including department stores, workwear stores, western stores, and farm and home stores. Round House Jeans also sells to some Wal-Mart and Walgreens stores.
Round House American Made Jeans exports jeans to over 20 countries (Japan, China, Taiwan, UK, Germany, France, Italy, Russia, Norway, Sweden, Australia, and more).
Oklahoma Governor Mary Fallin personally presented Round House Jeans with the 2011 Governor's Exporter of the Year Award.
"It's all about the authenticity of real workwear made in the USA that drives customers whether here in the United States or around the world," says David Antosh, Vice President of Round House Made in USA Workwear.
"Customers everywhere know the value and strength of American made clothing. Creating and keeping jobs in the United States is important to the public."
The Architect of the expansion is John Patterson of Patterson Architects and the contractor is Brandon Columbus.
Round House Made in America Jeans started in 1903 when Oklahoma was still Indian Territory, 4 years before statehood. Over 100 trains roared through Shawnee, Oklahoma each day.
Round House Jeans was founded making jeans and overalls for the thousands of railroad workers in Oklahoma. The Round House name comes from the "round house" railroad repair station.
Round House USA Made Jeans continue to be worn by train engineers at Disneyland, Disney World, Tokyo Disneyland and Disneyland Paris. Celebrities from Christopher Walken to Miranda Lambert to Jennifer Aniston are seen wearing Round House.