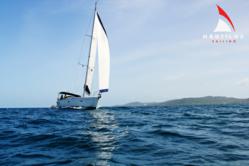 I could not recommend a better sailing course to go through!
Crested Butte, CO (PRWEB) January 30, 2013
Nautilus Sailing was recently named, by the American Sailing Association (ASA), as one of their 2012 Oustanding Sailing schools. This award is given to those sailing schools that have the highest customer satisfaction results, based on anonymous student evaluations submitted to the ASA. Each year the top 20 sailing schools, out of more than 330 ASA schools worldwide, receive this award.
"We are honored to receive this award, for the second year in a row," says Nautilus Sailing's lead instructor Tim Geisler. "We are fortunate to have incredible instructors, a fantastic curriculum, superb destinations, amazing yachts to teach on, and great students."
Nautilus Sailing offers week-long liveaboard sailing courses in the Grenadines, and in the Sea of Cortez (Mexico). Over the course of a week students are immersed in the sailing lifestyle, visiting countless islands, and learning the knowledge and skills necessary to captain a sailboat. At the end of each course, students receive formal ASA certification that entitles them to charter sailboats in exotic destinations around the world, and embark on their own sailing journeys. For more information about Nautilus Sailing, please visit their website: http://www.NautilusSailing.com