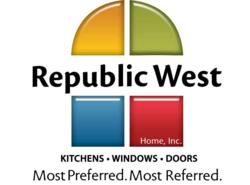 most Arizonans have no idea that their roof is in need of repair or replacement until they start getting water leakage to the interior
Phoenix, AZ (PRWEB) January 30, 2013
As a result of the five day rainstorms which pummeled the Valley this week, the management of Republic West Home, the Valley's most trusted roofing and home improvement contractor have recently hired additional estimators and support staff to keep up with demand.
"This most recent storm really dumped a lot of rain around the Valley and had our phones ringing all week long," commented Linda Zimmerman, Vice President of Republic West Home.
"To meet the influx of customer calls, we've brought on additional estimators and support staff to make sure we deliver the type of personalized service our customers are used to."
Because of the infrequent rain falls in Arizona, most residents don't realize they have a deteriorating roof until it's too late. "Unlike other parts of the country who receive steady rain, most Arizonans have no idea that their roof is in need of repair or replacement until they start getting water leakage to the interior," said Zimmerman.
While many roofing contractors are overwhelmed when extreme weather like this hits Phoenix, Republic West Home has roofing specialists who are available to come out quickly to inspect a damaged roof and determine the best course of action. If needed, Republic West Home's skilled craftsmen can replace a weathered tile roof, shingle roof, foam roof or flat roof.
Republic West Home is a licensed, bonded and insured contractor servicing Scottsdale and Phoenix, AZ as well as all surrounding cities. Free roofing estimates can be obtained by calling (480) 423-9300.
About Republic West Home:
Republic West Home is a company that stands for quality, honesty and the best value. Our vision, in an industry often lacking ethics and reliability, is to deliver the best home improvement experience possible.
To deliver the best possible experience before, during and after the completion of your project, an extensive team of professionals was put in place: employees driven to make the home improvement experience a great one for you, our customers. The formula works and the pleasant experiences we create for our customers have paid off. In an industry where repeat business averages less than 5%, Republic West Home and our 15,000+ clients generate an amazing 50% of our business from previous customers and referrals.
For additional information, please call 480-423-9300 or visit http://www.republicwesthome.com
Media contact:
Jason W. Jantzen
Phoenix Marketing Associates
http://www.PhoenixMarketingAssociates.com
602-282-0202