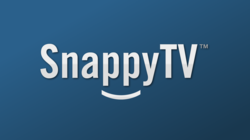 SnappyTV ensures that companies can quickly and easily reach viewers with their live video content wherever they are online.
(PRWEB) January 29, 2013
MIAMI (PRWEB) – January 29, 2013 – Today, at NATPE, SnappyTV, the leading live cloud and social video publishing and distribution platform, announced that it has now partnered or integrated with 16 leading companies to grow the SnappyTV "Audience Network." With the support of its far-reaching distribution partners, SnappyTV empowers editors and social media managers to easily and instantly syndicate live video clips and images for delivery through virtually any channel, whether Facebook, Twitter, YouTube, mobile apps and alerts, or websites.
Hear SnappyTV CEO Speak Today at NATPE
SnappyTV today also announced that its CEO Mike Folgner will speak on a panel entitled "Social TV: Tech Enablers to Drive Real Time Tune In" at the NATPE conference, Tuesday, January 29 from 5:00 to 5:45 p.m.
Tweet, Post, Embed or Syndicate Video Clips in Real Time
With the SnappyTV Audience Network, media companies can now reach the broadest audience possible for their live video content through seamless distribution across the most popular platforms and applications available, increasing viewer tune-in and amplifying engagement like never before. The following companies are part of the SnappyTV Audience Network:

YouTube
Ooyala
Brightcove
The Platform
Kaltura
Facebook
Twitter
Google Plus
Pinterest
WordPress
Tumblr
LiveU
Push IO
Storify
5min Media
VidCaster
"Today's audiences aren't just sitting and staring at a single TV or computer screen," said Mike Folgner, CEO of SnappyTV. "They're on social networks, mobile devices and YouTube. With the scope that we've achieved through these key partnerships and integrations, SnappyTV ensures that companies can quickly and easily reach viewers with their live video content wherever they are online – driving tune-in and generating more exposure for their programs or events."
"Ooyala's Q3 2012 Global Video Index Report shows that consumers are increasing the amount of live television content they watch online," said Bismark Lepe, co-founder and president of products for Ooyala. "By partnering with SnappyTV, a leader in cloud-based video clipping and editing, we can help media companies grow their audience by delivering clips from live television streams to all platforms – quickly and efficiently."
SnappyTV: Just One Click Captures and Carries a Video Moment to the World
Unlike other solutions that can take hours for clips to be created and published, SnappyTV's live cloud-based video editing and publishing technology allows organizations to instantly publish and distribute instant video highlights on web, social and mobile channels. With the Audience Network, that ability is maximized through seamless integration across SnappyTV's partner platforms, networks and applications. With just one click, media companies can publish key video moments instantly to all platforms – reaching a larger audience, faster.
The SnappyTV Audience Network is open for leading web, social and mobile companies to join. Online video platforms, blogging platforms, tools companies and companies with engaged audiences can join the network today. Joining the Network allows media companies using SnappyTV's leading live cloud video editing platform to seamlessly publish content to your platform or audience. Contact partners(at)snappytv(dot)com for more information.
About SnappyTV
SnappyTV is a live cloud and video content publishing and distribution platform that works directly with content owners to enable viewers to distribute video clips from their favorite shows in real time, increasing tune-in and audience engagement. With SnappyTV, users can easily create their own 20-second video clip from what they see on TV or online streaming events and share it instantly with their friends via social networks, including Facebook and Twitter.
Major television networks, cable channels, sports leagues and conferences, including ABC News, Fox Sports, MTV, Tennis Channel, NCAA, PBS News Hour and TechCrunch are using SnappyTV's real time publishing platform to change the way audiences engage with and talk about their favorite shows and live TV events by integrating video clips with social conversations. For more information, go to http://www.snappytv.com or email contact(at)snappytv(dot)com.