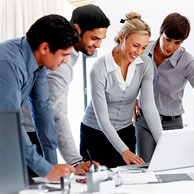 Miami, Florida (PRWEB) January 30, 2013
Webhosting.net announced, today, that they will be attending the ITEXPO Miami 2013. They will join the world leaders in technology and communications for the most attended industry trade show. The ITEXPO will host many industries from service providers to government agencies. It will be held at the Miami Beach Convention Center in Miami Beach, FL. January 30 through February 1, 2013.
During the three day event the latest trends and technologies will be showcased and discussed by industry leaders. Several keynote speakers will discuss their company successes, preferred technologies as well as divulging valuable tips and insights. Educational sessions and panel discussions such as: "The Future of Service Providers — Dumb Pipes or Global Leaders" are offered free of charge to all who register. Everyone who attends the ITEXPO will have the opportunity to increase their knowledge as well as connect with industry manufacturers, buyers and sellers through several networking events.
For companies who are searching for the latest products, specific vendors or simply to develop strategic partnerships the ITEXPO exhibit hall has it. From service providers to manufactures the majority of attendees are high level decision makers who share the same business interests and end results.
Webhosting.net will be available to discuss with companies who are interested in learning about the latest technology in virtual hosting, colocation and other managed solutions. Webhosting.net offers a tier-IV data center facility with a carrier-neutral Network Access Point strategically designed and built to link the Americas to the rest of the world. They are best known for providing a professional level platform for data security,high performance and continuous connectivity. If interested in coordinating a get-together at the ITEXPO please contact Ray Pedroso.
About Webhosting.net
Since 1998 WebHosting.net has provided reliable, scalable and secure web hosting solutions for individuals and businesses of all sizes. WebHosting.net prides themselves on solid network reliability and continuous customer service, delivering services through a carrier-class collocation facility that ensures efficient delivery of low-cost hosted services.
About: ITEXPO East
ITEXPO East ITEXPO is January 30 – February 1, 2013 in Miami Beach, FL. It is an event with an educational program that teaches re-sellers, enterprises, SMBs, and Government Agencies how to select IP-based voice, video, fax, and unified communications to purchase or resell. It's where service providers learn how to profitably roll out services their subscribers are clamoring for. ITEXPO is where buyers, sellers, re-sellers, and manufacturers meet to forge relationships and close deals.