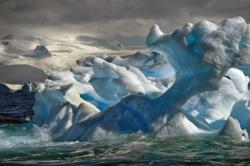 According to Elaine Galen, "In a world of environmental concerns, my effort is to affirm beauty's morale order in nature. I am deeply moved by the presence and the power of nature to penetrate deep into the soul. Through painting I seek to preserve it."
New York (PRWEB) January 30, 2013
New York Art Gallery Elisa Contemporary Art presents Icebergs and Glaciers. The new art exhibit opens February 1, 2013
In the wake of 2012's extreme weather and new record lows set by the Arctic sea ice, we pay tribute to these stunning natural formations. These earthly beauties are captured in three distinct art forms – mixed media, oil on canvas, and photography.
Icebergs & Glaciers will include the Alaskan Journey series by mixed media pioneer, Rosalind Schneider. Rosalind uses imagery shot from a small plane, a boat and while hiking on the surface of glacier located in Prince William Sound and Wrangel St. Elias, Alaska. The series began in late 2010 and will debut several new artworks.
It will also feature a contemporary view of nature by internationally acclaimed artist, Elaine Galen. According to Elaine, "In a world of eroding values and environmental concerns, my effort is to affirm beauty's morale order in nature. I am deeply moved by the presence of and the power of nature to penetrate deep into the soul — through painting I seek to preserve nature – the heavens, seas, skies, mountains, and our past". The exhibit will feature her recent painting, Ice Melt.
Icebergs & Glaciers features the photography of John Conn, who spent 45 days in 2010 in Antarctica and Patagonia. traveling and hiking to capture the land and seascapes. He spent over 20 days journeying over 3,200 nautical miles in Antarctica before heading to Patagonia for the second part of his expedition. Throughout his journey, he referenced the stories of Antarctic explorers, Ernest Shackleton and Robert Scott. Like them, he saw his surroundings to be dangerous, inhospitable and forbidding. According to John, "There's menace here and the feel of it stays with you…it towers over you. And when you've left the continent, it's still in your memory."
Join Elisa Contemporary Art for a reception with our artists on Saturday, April 13th from 4pm to 7pm.
What: Icebergs and Glaciers
Artists: Photographer John Conn, Painter Elaine Galen, Mixed Media artist, Rosalind Schneider
When: February 1 through April 28, 2013
Special Events:
o Artists Reception on Saturday, April 13 from 4-7pm
Where: Elisa Contemporary Art, 5622 Mosholu Avenue (near 256th Street), Riverdale NY 10471.
Hours: Friday/Saturday 10 am – 6 pm and by Appointment
About Elisa Contemporary Art
Elisa Contemporary Art represents a portfolio of both emerging and established contemporary artists, many of whom have work in the permanent collections of major museums and corporations.
Founded in 2007 by Lisa Cooper, Elisa Contemporary Art is dedicated to promoting the appreciation and collection of art as a way to enrich and heal our lives, our communities, and the world. The gallery opened in September 2008. Elisa Contemporary Art has participated in international art fairs in New York, Miami and the Hamptons, and curated over 12 public art exhibits in the Tri-State area. A portion of every gallery sale is donated to charities helping underserved children heal through art. We support Free Arts NYC and Arts to Grow. Owner Lisa Cooper also provides art consulting services.
Elisa Contemporary Art has been featured in a number of publications including Ocean Home Magazine, Hamptons Cottages & Gardens, New York Spaces and The New York Times.
For more information, visit the website at http://www.ElisaContemporaryArt.com. The Riverdale Gallery is located at 5622 Mosholu Avenue, Riverdale NY 10471.