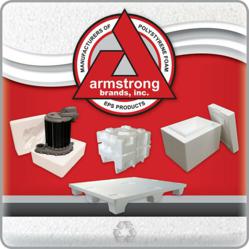 Implementing an advanced inventory management system provides the technology to exceed our level of service by providing real time reporting, tracking and inventory control for our clients
West Seneca, New York (PRWEB) January 30, 2013
Armstrong Brands, Inc. has completed implementation of an updated inventory management system which allows advanced inventory monitoring, tracking and order fulfillment for their wide client base. "This is as much of an investment into our clients, as it is for improving our daily operations," commented Andy Severson, President at Armstrong Brands, Inc. The new technology, complemented with extensive training, will allow them to increase services while controlling costs of manufacturing and delivery.
"At Armstrong Brands we engage a proactive approach toward efficiency by constantly evaluating our performance. Implementing an advanced inventory management system provides the technology to exceed our level of service by providing real time reporting, tracking and inventory control for our clients," stated Andy Severson. Pointing to a current trend of warehouse consolidation, the need for advanced inventory monitoring and true on-demand production of foam products, as well as order tracking, will allow Armstrong Brands, Inc. to proactively evaluate customer inventory levels and partner with them for future needs.
The commitment to continually evaluate software, procedures and market needs, has also helped them to become an industry leader in the recycling of Polystyrene EPS Foam. The new system will facilitate local and regional pickup of used materials and management of product waiting for reuse. In addition, real-time inventory control will cut down on production waste by more accurately determining client volume and production forecasting.
About Armstrong Brands, Inc.
Founded in 1985, Armstrong Brands, a national leader in the design and production of custom molded foam products, provides shipping and display solutions for a wide range of industries. As one of the top manufacturers of Polystyrene EPS foam, Armstrong continues to lead the industry with innovative ideas that benefit clients ranging from industrial and pharmaceutical to food and automotive parts packaging. Avid supporters of resolving environmental issues, Armstrong leads the way on recycling and reuse of foam products.
To learn more about Armstrong Brands, Inc. visit http://www.armstrongbrands.com.