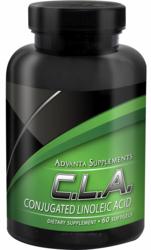 A person would have to consume unrealistic amounts of beef and dairy to achieve meaningful levels of CLA
Adel, Ia (PRWEB) January 30, 2013
In a world waging war against obesity, many find themselves trapped inside a fat-burning paradox. Although research shows that Conjugated Linoleic Acid (CLA) in the right amount is a fat that actually fights fat, the average Americans diet fails to deliver CLA in sufficient amounts. Iowa-based Advanta Supplements announced today the addition of 1,000-mg soft-gel CLA capsules to its health and wellness product line:
According to consumer health information site eMedicineHealth.com, the best source of dietary CLA is grass-fed beef and dairy products. However, these foods only contain CLA in small amounts and many health conscious individuals have attempted to remove red meat from their diets. The average American diet supplies 15 to 174 mg of CLA daily, but the most effective dose, according to research, is around 3.4 grams. "A person would have to consume unrealistic amounts of beef and dairy to achieve meaningful levels of CLA," says Advanta Supplements spokesperson Steven Vegors. "Taking CLA supplements solves this problem."
For more than a decade, studies have shown that CLA keeps fat cells small by blocking the fat receptors that allow these cells to grow. Lending further credibility to this claim, a study published in the Journal of Nutrition, the first scientific journal created solely for publication of nutrition research, concluded that CLA helped participants shed fat and retain muscle mass, leading to a leaner body composition.
The following CLA doses have been studied in scientific research: For reducing body fat in obese patients, a dose of 1.8 to 7 grams of CLA was taken by mouth daily.
Advanta's new CLA supplements will join the company's existing product line, including African Mango to aid in lowering cholesterol, mercury-free Omega 3 to promote a healthy heart, and Ubiquinol supplements to boost immune health, to name just a few. Vegors continues, "By adding CLA supplements to our lineup of products, we're helping individuals consume enough of this healthy fat, something that is very difficult to do with diet alone."
These new, powerful Advanta Conjugated Linoleic Acid are available now through Amazon.com.
About Advanta Supplements:
Advanta Supplements partners with FDA-approved labs to develop, test, and manufacture a line of quality vitamins and nutritional supplements. All Advanta products are made in the U.S. and backed by a 100-percent customer satisfaction guarantee. More information is available on the company website: http://www.advantasupplements.com/