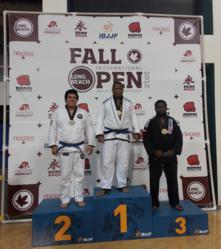 "Looks like it can be a very good year for him as long as he stays level-headed and poised."

- Julius Park
(PRWEB) January 30, 2013
Crazy 88 Brazilian Jiu-Jitsu competitor, Alfonso "Big Sal" Washington, set the momentum for the European Open held in Lisbon, Portugal from January 24 – 27 by winning gold and taking home the first Grand Slam medal of the 2013 competition season.
The European Open is the first of the four most elite Brazilian Jiu-Jitsu competitions in the world. Run by the International Brazilian Jiu-Jitsu Federation (IBJJF), these tournaments are known for attracting the stiffest competition in Brazilian Jiu-Jitsu. Big Sal started off the year victorious by winning first in the Ultra-Heavy division and claiming bronze in the Open division.
Being an impressive feat in and of itself, this win is made even more impressive by the fact that Alfonso is still recovering from a recent hernia operation which typically keeps a patient out of activity for a significant period time. Rather than keep himself restricted to bed rest, Alfonso Washington quickly returned to the training scene and began competing much sooner than anticipated. Alfonso has been on a remarkable streak lately, dominating both the local and international competition circuit. In the last month alone since returning from surgery, Al has won both the Good Fight Maryland Open and the Long Beach Open.
Head Instructor Julius Park stated, "I expected Big Sal to have a good showing in Europe by going onward and riding the momentum of his most recent tournament performances this year. Looks like it can be a very good year for him as long as he stays level-headed and poised."
The European Open is just the beginning of the grueling "Grand Slam" season with the Pan American Championship right around the corner. Alfonso will be gearing up to repeat his performance from last year by capturing gold again in Irvine, California. For more updates and information about Crazy 88 Brazilian Jiu-Jitsu visit the website at http://www.baltimoremixedmartialarts.com.