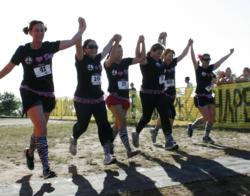 "The SHAPE Diva Dash is girl power at it's finist," says Josh Kravetz, Adventure Fit founder
Boulder, CO (PRWEB) January 30, 2013
Adventure Fit, a Boulder-based sports marketing company, announced today that due to an overwhelming response in 2012, the SHAPE Diva Dash, a women-only obstacle run, will grow from four to 10 events in 2013. The season kicks off February 23 in Atlanta, Georgia. It will also visit San Diego, Austin, Boulder, Fort Worth, Chicago, Washington DC, Boston, New York and Miami.
This popular women's-only obstacle adventure run combines a 5K run over varied terrain and a dozen obstacles designed to challenge aspects of overall fitness, including strength, balance and agility. There is no mud or fire pits or barbed wire, however the Diva Dash provides plenty of excitement and challenge for women of all ages and abilities.
The Diva Dash is unique in the way it allows runners (and walkers) to customize their event day experience. Competitive runners can sign up to run in one of four timed waves. And all participants can challenge themselves by selecting easy or more difficult obstacles - or skipping them altogether. Prizes will be awarded the top three timed finishers in each age division.
The Diva Dash experience is about sisterhood, support and athleticism. For many participants, this is their first running event; for others, it is their first obstacle run. Whatever their level, the supportive and encouraging atmosphere of the Dash is empowering for all, from first-timers to seasoned racers. Costumes and bling are encouraged and contribute to the celebratory mood felt throughout the event.
Registration is now open at http://www.DivaDash.co
"The Diva Dash is girl power at its finest," says Josh Kravetz, Adventure Fit founder. It is for female runners (and walkers) of all abilities. The goal for some is to complete the run and the obstacles, which involve mazes, ropes, speed, balance, and strength, in the shortest time possible. For others, however, the goal is simply to finish and to have fun along the way with their girl friends, sisters, mothers and daughters. To keep things moving smoothly over the 5K course, starting waves will depart every 15 minutes.
The 2013 season opener will take place at Fox Hall Sporting Club in Douglasville, Georgia on February 23, 2013. Although the DASH itself is limited to women, anybody is welcome to come out to the after party where there will be great music, prize contests, and lots of ladies showing off their costumes.
SHAPE Magazine is the title sponsor. Presenting sponsors include LUNA and Oakley.
Find out more at http://www.divadash.com
About Adventure Fit
At Adventure Fit Inc, we live for fun outdoor adventures. Our passion shows in our work through every event, team, and experience we create. Founded on the slogan "Come out and Play!", Adventure Fit has produced some of the country's most popular participatory sporting events. Our events are not only fun and unique, they also have a deeper goal: to open the eyes of our participants to a world of greater social and environmental responsibility. We partner exclusively with companies that have