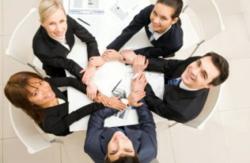 More than two-thirds (67%) of high-performance organizations apply PM principles and practices to executives.
(PRWEB) January 29, 2013
New i4cp research reveals employee performance management(PM) processes are being applied consistently throughout high-performing organizations (HPOs)—including executives and board members.
The data referenced in the new report Purpose-Driven Performance Management in High-Performance Organizations is taken from an international i4cp study that queried 1,427 participants on their organizations' performance management appraisals, common practices and technology solutions.
i4cp found that including executives in PM processes is highly correlated to market performance and that more than two-thirds (67%) of high-performance organizations apply PM principles and practices to executives. The report also shows that nearly three times as many high-performance organizations as lower performers apply their PM processes to board members.
The inclusion of executives sends a clear message that performance expectations and accountability are applicable at all levels of the firm. It is important for employees to know that the leadership team's performance is being examined every bit as carefully as their own. There are many positive effects attributed to this level of inclusion, and doing so can even positively impact the perceptions of executive pay. While reports on executive compensation have, on occasion, caused employees to resent the large differences between executive pay and worker salaries, this type of transparency in expectations of executive performance and the impact it has on shareholders can help make those connections more understandable.
Overall, we are seeing a transition to a less narrow and more inclusive approach to performance management practices, which not only sends the right message to employees, but also has a positive impact on market performance.
The report, which is available exclusively to i4cp members, reveals 16 other difference-making performance management practices of high-performance organizations, and is comprised of recommendations, action plans and insights from i4cp member companies such as Hertz, Mosaic, Corning and ConnectiCare.
If this topic interests you and you would like to learn more, please contact:
Nicole Jue
Direct: 1-206-357-7654
Email: nicole.jue(at)i4cp(dot)com
About i4cp, inc.
i4cp focuses on the people practices that make high-performance organizations unique. Years of research make it clear that top companies approach their workforces differently. In recognition of our status as the largest and fastest-growing network of its kind, i4cp was named to the prestigious 2012 Inc. 500|5000 list. We work with our network of organizations to:

Reveal what high-performance organizations are doing differently
Identify best and next practices for all levels of management
Provide the resources to show how workforce improvements have bottom-line impact
Through our exclusive, vendor-free network – in which peers collaborate to drive strategic research, as well as share tools and insights – i4cp provides a unique, practical view of how human capital practices drive high performance. For more information, visit http://www.i4cp.com/.