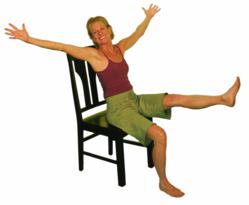 Chair Yoga is the best thing going for people with a disability to keep in shape - class participant
Huntington Beach, CA (PRWEB) January 30, 2013
In early 2012, Carole Tonks and Luke Koppisch of The Alliance Center for Independence formulated the idea of using chair yoga to help accomplish Center goals. After much research they settled on Lakshmi Voelker Chair Yoga (LVCY) as an exceptional tool for delivering these goals. In the spring of 2012 they took LVCY's innovative Online Teacher Training over Skype.
In December, Carole and Luke began LVCY classes. The classes foster two important elements of developing independent living skills for the disabled: 1) to increase their physical fitness and mobility and 2) teaching them skills to cope with stress and depression.
Here are some comments from participants of these classes.
"I always felt so much calmer emotionally and mentally and better physically."
"I used to have a lot of pain in my shoulders and legs. They started to diminish."
"....I loved was the Spiritual poems and readings."
"I had been stiff for so long after bi-lateral hip replacements, was afraid to even try exercising until chair yoga classes began. Couldn't believe the flexibility I had after each class."
"Chair Yoga is the best thing going for people with a disability to keep in shape."
"When you have a disability and are shy about communicating with others, chair yoga is a great way to improve your communication skills in a relaxed environment."
"I couldn't believe the additional movement I experienced after joining chair yoga classes with my shoulder replacement."
"My great Instructors begin each class with a mind relaxing poem or quote which stimulated me and prepared my mind and body for each of the yoga moves.
Carole and Luke also conducted Lakshmi Voelker Chair Yoga classes for members of the Spinal Bifida Resource Network at their annual Empowerment Retreat on December 1, 2012. Here are comments they left through Facebook and emails:
"Thank you everyone at the Empowerment Retreat. We had a great time taking the chair yoga class. Lots of fun!'
"Thank you Carole and Luke so much for yesterday!!! It was great and I practiced this morning!! You guys are awesome!! Namasté."
"I just wanted to send you my sincere thank you for providing the Adaptive (Chair) Yoga session at this weekend's Empowerment Retreat sponsored by The Spina Bifida Resource Network. There were several of the participants, including myself, who talked openly about the benefits of the session and their interest in doing more chair yoga in the future! And we used the phrase "I am hope" several times after you left. I certainly hope we can collaborate again soon". (You read the poem entitled "I am Hope" at the beginning of the class).
Carole Tonks and Luke Koppisch have worked together in the disability field for over 15 years. Carole is presently the Executive Director and Luke the Independent Living Specialist at the Alliance Center for Independence in Edison, NJ. They currently team teach weekly LVCY classes to people with disabilities.
The Alliance Center for Independence marked 2011 as the 25th year of their supporting people with disabilities in Union, Middlesex and Somerset counties in New Jersey.
The Alliance recognizes disability as a natural and beautiful part of human diversity. They provide information and referral services and develops and implements educational programs and innovative activities that promote activism, peer support, health and wellness, employment and independent living skills for people with disabilities and their allies. The Alliance supports the philosophy of independent living for all persons with disabilities.
Lakshmi Voelker, E-RYT 500, YA, IAYT, has over 40 years in the fitness industry specializing in senior fitness and adaptive fitness. She created Lakshmi Voelker Chair Yoga in 1982. Creator of the DVD Get Fit Where You Sit and the CD Lakshmi Voelker Chair Yoga, she has certified more than 750 teachers nationally and internationally, including health-care professionals at the Mayo Clinic and the New York City Department of Education. She does live certifications all around the United States. She also offers Online Teacher Training over Skype. For more information on all her certification programs, click here.
http://www.getfitwhereyousit.com