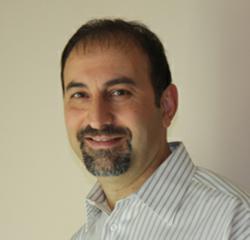 Our goal at Flintridge Dental Studio is to provide our patients with a different kind of dental relationship—one that is established on a feeling of trust
Flintridge CA (PRWEB) January 30, 2013
Surveys show that 1 in 7 American adults have a fear of the dentist—some have so much anxiety about dental visits that they avoid them altogether. Dr. Harmik Derhartounian dentist in Flintridge, California and his staff at Flintridge Dental Studio have been receiving top reviews on third party review sites for their dedication in helping patients become more comfortable with dental visits. Each of Dr. Derhartounian's staff members receives special training about providing effective treatment for those with apprehension of the dentist.
"Our goal at Flintridge Dental Studio is to provide our patients with a different kind of dental relationship—one that is established on a feeling of trust," said Dr. Harmik Derhartounian. "We know that a lot of our patients are anxious about receiving dental care, and we make it a point to keep our patients informed and involved in their dental decisions to ease their fear and uncertainty."
Patient reviews of Dr. Harmik Derhartounian and Flintridge Dental Studio show that the extra care taken by staff to ensure patient ease and comfort doesn't go unnoticed.
"I have a huge dentist phobia, but Dr. Harmik really eased my fears and explained everything I needed to know," said Nicole C., in a review of Flintridge Dental Studio left on review site Yelp."Their staff seemed to have bottomless patience and that's a huge plus when finding a dental office."
Gayle D., in another 5-star review left on Yelp said, "Dr. Harmik's professionalism and his dedication to explaining every step of my procedure was something I had never experienced from a dentist. The friendliness of the staff is unsurpassed."
In addition to providing general dental care, Dr. Harmik Derhartounian also provides advanced dental services such as implants, veneers, Lumineers, Invisalign, CEREC crowns, migraine treatment and more. Additionally, Flintridge Dental Studio provides patients with the latest in dental technology to ensure that their visit is as painless and comfortable as possible. Some of this technology includes sedation dentistry along with the Waterlase drill that replaces shots and drills, intra-oral cameras, digital X-rays and more.
Dr. Harmik Derhartounian earned his dental degree from the University of the Pacific School of Dentistry in San Francisco and has been practicing dentistry for 20 years. In addition to his experience as a local Flintridge dentist, he also has a medical degree from the University of Padova School of Medicine in Padova, Italy. Dr. Harmik is committed to continuing education courses and has received training in esthetic dentistry, conscious sedation and Invisalign.
For more information about Dr. Harmik Derhartounian, dentist in Flintridge, CA, or to see both written and video reviews of Flintridge Dental Studio, please visit http://www.flintridgedentalstudio.com and http://www.youtube.com/watch?v=qUWki7l2q0Q