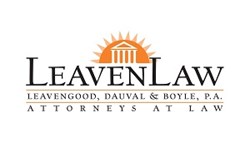 St. Petersburg, FL (PRWEB) January 29, 2013
In November, 2011, the firm's client was charged with "withholding information from a practitioner" after an office manager had reported him to law enforcement officials due to suspicious activity (Pinellas County Circuit Court, Case No. CRC11-23015CFANO). Since the investigator supposedly did not use proper procedure in obtaining evidence, after months of work, the attorneys at Leavengood, Dauval & Boyle, P.A. were recently able to reduce his felony charges to a misdemeanor.
According to Florida Statute 893.13(7)(a)(8), it is illegal for a patient to go see more than one doctor about a particular injury and then get medication without telling each doctor about their prescription history. This practice is commonly known as doctor shopping. Many people in Florida do this so that they can obtain several pain killers for one injury. In an attempt to curb doctor shopping, the State of Florida enacted the Prescription Drug Monitoring Database, which alerts medical professionals when a patient is receiving prescription narcotics from another doctor.
According to Case No. CRC11-23015CFANO, Pinellas County Circuit Court, on November 7th, 2011, an office manager noticed that the defendant had a red flag on the database because he had allegedly obtained narcotic prescriptions from multiple doctors. The manager then notified the police. The detective who was assigned to the case investigated the office manager's findings, which contained the defendant's private medical information. The investigator also went to the pharmacies and got his prescriptions records, as well as went to his doctors and obtained the medical information on the defendant. After the detective obtained all the evidence, he was subsequently arrested. Per court records, the detective did this without the use of a subpoena or a warrant (Pinellas County Circuit Court, Case No. CRC11-23015CFANO).
Because the Prescription Drug Monitoring Program deals with sensitive information, the Florida Statute 456.057 has very strict regulations about how law enforcement officials are to obtain a patient's prescription history and medical information. Without the consent of the patient, the prosecution may not obtain a person's private medical records unless a court of "competent jurisdiction" issues a subpoena and notifies the patient.
Since the detective had not followed the proper procedure, the legal defense team at Leavengood, Dauval & Boyle, P.A. submitted a motion to the State Attorney to suppress all of the medical information he had obtained without a subpoena. The State Attorney then obtained depositions from the investigators involved in the case and decided to reduce the charges from a third degree felony to second degree misdemeanor before any hearings for the motion to suppress or the trial had taken place. (Pinellas County Circuit Court, Case No. CRC11-23015CFANO)
The client pleaded "no contest" to possession of prescription drugs without a prescription under Florida Statute 499.03, which is punishable of up to 60 days in county jail. If he had been convicted of doctor shopping, he could have faced up to five years in prison. The defendant instead received a sentence of the minimum fine and time already served.
The criminal attorneys at Leavengood, Dauval & Boyle, P.A. are known for their quick and aggressive defense on behalf of their clients. No matter how serious an offense, their firm will tackle the case, having a wealth of experience in cases such as DUI, sex crimes, domestic violence, theft, and many more. Their legal team will carefully investigate the case by questioning witnesses, evaluating evidence, and reviewing protocol. If the rights of the accused were violated, then their experienced lawyers will vigorously fight to reduce or drop the charges. They represent clients from a variety of places including Tampa, De Soto Count, Bradenton, St. Petersburg, Sarasota, Clearwater, New Port Richey, Tarpon Springs, and Spring Hill. Leavengood, Dauval & Boyle, P.A. offer a free consultation for any who wish to discuss their case in more detail. Information about their attorneys and cases can be found at http://www.leavenlaw.com.