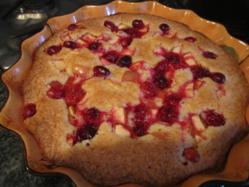 Customers always keep an extra package in their cabinets for the unexpected
Brookline, MA (PRWEB) January 31, 2013
Today's market carry many options of apples, pears, and oranges with a variety of shapes and sweetness that it could be confusing as to which is best for baking. The good news is that all work great with T'ART. With the shopping done for the week, take a moment to enjoy the fresh fruit and create an easy and home made dessert. Here, Linda Amir shares three different fruit ideas;
1. Mix red apples, green pears and deep colored cranberries. No skinning– just wash, slice or chop
2. Mix sliced green kiwi (peeled) and sliced red strawberries
3. Mix sliced orange with green kiwi and red apple topped with chocolate shavings.
– and afterwards, add the prepared batter to the baking pan, top with the fruit in one nice flat layer and add an optional dash of brown sugar on top.
Off to a friend for dinner and no time to bake or shop – simply whip up T'ART in 7 minutes and bake for 45. "Customers always keep an extra package in their cabinets for the unexpected". The smell of your homemade treat upon arrival is guaranteed to resonate throughout house and psych the guests for dessert!
About Amour Creations:
Created with a unique idea and a sweet tooth in mind, Linda Amir, founder and creator of the T'ART maker, set out to create the perfect baking mix that's quick, easy and delicious. An alternative to pies and cakes, T'ART is a baking mix that pairs "art" with "tart" and has been providing no-fuss sweet and savory tarts to customers for a little over two years. For locations on where to buy, visit http://amourcreations.net/find-us-near-you/ or purchase the mix online at http://amourcreations.net