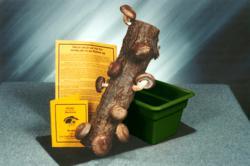 A shiitake gift log blooms year after year. Its fruit is delicious and contains compounds that create feelings of joy. It's like flowers and candy in one gift
The Mushroom Lady, Sandra Williams
Perkins, OK (PRWEB) January 29, 2013
"Flowers and sweets for Valentine's Day are our typical American tradition," according to The Mushroom Lady, Sandra Williams of Lost Creek Mushroom Farm. "A shiitake mushroom log is not a bouquet, but it is a bunch of blooms that return in greater numbers for years. The blooms, or fruits of the mushroom, are much, much different from traditional bouquets – and delicious. A log could be a metaphor both for roses and candy."
Shiitake mushrooms are grown in two ways, on sterilized sawdust blocks and on all-natural hardwood logs, such as oak, cherry, gum, or hickory. "Shiitakes grown on logs are closer to Nature. They're denser and have a meatier texture. They have more flavor, and more of the impressive health benefits that shiitakes are known for," Sandra said. "For vegetarians and nutrition-savvy cooks, shiitakes are the most beloved mushroom because they are high in protein, low in fat, strengthen the immune system, and have a positive effect on our emotions."
The logs are cut in winter when the sap is down. Then holes are made with high-speed drills, and shiitake spawn, the mushroom seed material, is injected into the holes. The holes are sealed with wax to keep out bacteria and insects. Watered and protected at Lost Creek Mushroom Farm, the shiitake grows inside the log for 8 months or more until it is ready to blossom into mushrooms when "shocked" with ice water.
"Shocking -- soaking the log in very cold water -- forces it to fruit." Sandra explained, "The sudden drop in temperature fools the log into thinking it's the spring or fall rainy season, with warm days and cold, rainy nights."
Shiitake mushroom logs grow beautiful, dark brown mushrooms about every two months for years. The logs will grow inside like plants or outside in shade. They require soaking in non-chlorinated, room-temperature water every two weeks, and in ice water every two months.
"Indoors, they can produce 6 crops a year," said The Mushroom Lady, "If they're outside in shade in the spring and fall, Nature will set them fruiting and grow large, meaty mushrooms."
"At first only a few mushrooms bloom, but the harvest increases as the log matures. In the second year a log can be covered from top to bottom."
Lost Creek Mushroom Farm Shiitake log kits range in price from $18 to $80. Logs 9-10 inches and longer are fully guaranteed. Kits with two logs, such as the Ma & Pa kit with two 9-10" logs, and the Best Buy, two 14" logs each with its own soaking tray, will grow mushrooms every month by alternating the producing log. Each kit includes a ready-to-fruit hardwood log, complete instructions, and a recipe booklet. The Shiitake Sampler Cookbook, with 51 recipes, can be included with any log kit for $7.99, or sold separately at $9.95.
"Shiitake mushrooms contain compounds that stimulate feelings of joy," Williams explained, "so a gift of good food, the pleasure of growing natural things, and the warmth of joy from someone who loves you – what could be better?"
Sandra and her husband Doug are the founders of The Voice of the Mushroom Foundation and Mushrooms in Ghana Project. A portion of sales supports projects to promote production, consumption, and education about the health and healing benefits of mushrooms.