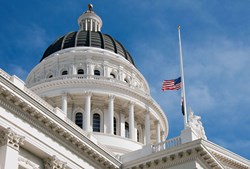 Our main concern is not will CalHFA comply...it's how long it'll take CalHFA to wire funds to close the loan.
Orange, CA (PRWEB) January 30, 2013
In a bulletin released today from the California Housing Finance Agency, the agency that administers various assistance programs for California, it was announced that the United States Department of Housing and Urban Development (HUD) granted a reprieve from a recent interpretation that brought critical first time homebuyer assistance to a screeching halt.
On January 25th, 2012 CalHFA issued an immediate suspension due to an interpretation of the Housing and Economic Recovery Act of 2008 (HERA) issued by HUD which conflicted with the way that the California Homebuyer Down Payment Assistance Program (CHDAP) was administered. The interpretation released by HUD would require CalHFA to transfer all assistance funds into an open loan's escrow account prior to closing.
Currently, the lender originating the loan forwards the assistance funds and gets reimbursed by CalHFA after the close of escrow.
This is not a permanent reinstatement however. According to CalHFA's bulletin release "HUD is allowing lenders to fund directly, and be reimbursed after closing by HFAs, but any CHDAP loans funded in this manner must close prior to June 1, 2013 or the first mortgage loans may be uninsurable by FHA." (Program Bulletin #2013-02).
"If the housing agency doesn't find a way to comply they'll end up having to suspend it [CHDAP] again. That would be a shame since so many people are out shopping for homes using that program. They can't afford a home otherwise," says Chris Apodaca, a licensed California mortgage banker.
"Our main concern is not so much will CalHFA comply, because they most likely will, it's how long it'll take for CalHFA to wire funds into escrow so we can close the loan. With people struggling to get offers accepted in this market, the last thing you want is a seller associating CalHFA assistance with a long drawn out process, especially when you have a line of cash buyers waiting. California bureaucracies, as good as their intentions may be, are not renowned for their quick response times," says Apodaca.