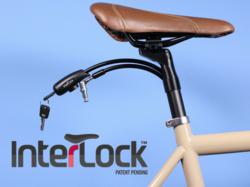 Losing my bike combined with the hassle of carrying around a bulky bike lock inspired me to create the InterLock™ for cyclists around the world.
Vancouver (PRWEB) January 29, 2013
The InterLock™ is a seat post with a bike lock inside of it. The bike lock is an integrated lock that hides inside of the frame of virtually any bicycle. While the lock is not in use, it is concealed and stored in the seat post, allowing cyclists to ride without a lock hanging off of their bike.
The newest product by Solgaard Design, The InterLock™, has taken off on the popular crowdfunding site, Kickstarter. Adrian Solgaard Janzen, creator of The InterLock™, has set the project's initial funding goal at $48,000 and needs to raise these funds in order to cover tooling and material costs for the lock.
There are different ways to use the The InterLock™; simply pull the cable out and slip it through the frame of a bike or use it in conjunction with a standard U-Lock which is recommended for high-risk areas in order to secure the seat and rear wheel to the bike. Some may wonder whether or not removing the seat means the bike can be stolen, but the answer is no. Just be sure to run the the cable through the frame and rear wheel to secure the entire bike to the bike rack.
"About a year ago, my bike was stolen due to a faulty lock," explains Solgaard. "Losing my bike combined with the hassle of carrying around a bulky bike lock inspired me to create The InterLock™ for cyclists around the world."
The lock will retail for an estimated $50, but is offered at a discount for early adopters on Kickstarter. For a pledge of $39, backers will receive the InterLock™ bicycle seat post with a weather resistant lock and two keys. However, in order for the product to be manufactured, it must reach its total funding goal of $48,000.
Currently, The InterLock™ has raised over 70% of the necessary funds, with an all-or-nothing deadline of February 5, 2012. The company has hired Kickstarter marketing experts, Command Partners to carry out all of its online marketing initiatives. To support the InterLock™ project on Kickstarter, visit http://bit.ly/InterLockKS where backers will find exclusive rewards in exchange for helping the project reach its funding goal. Rewards range from standard InterLock™ devices to custom Kickstarter InterLock™ devices to fun, limited edition versions of the lock.
About Solgaard Design
Solgaard Design is a new startup company based out of Vancouver, Canada and the design force behind InterLock™, the lock that hides inside your bike. To learn more about Solgaard Design, visit http://www.the-interlock.com, Like them on Facebook at https://www.facebook.com/SolgaardDesign and Follow them on Twitter @SolgaardDesign. The InterLock™ is a patented design.