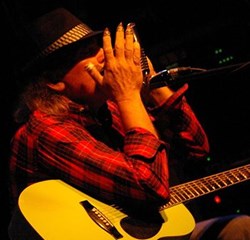 The New Voice of Americana... with a guitar sound bigger than anything I have heard since The Clash...
Steve Selles
The Clairmont Post
Wilmington, North Carolina (PRWEB) January 30, 2013
Eric Sommer and The Solar Flares have released their new record RAINY DAY KARMA and will be in Wilmington, NC on Feb 8th to promote the record. The Soapbox Laundro Lounge will host the show - a solo spot for Eric Sommer - on February 8th in The Soapbox Lounge.
This is the first record for The Solar Flares, and contains 11 songs and was recorded in Pittsburgh, PA at 20 Cedar Studios this past summer; vocals were recorded there and then mixed and mastered in Nashville by Jeff Silverman at Palette Productions. The production values are high on this record, and the mix is radio friendly in the best tradition of Nick Lowe, Elvis Costello, Drive By Truckers and Alison Krause.
RAINY DAY KARMA is getting strong airplay nationally on college and INDIE stations and was featured recently in Athens GA on WUGA radio. Mr. Sommer - first with the Atomics in Boston, then on various tours and shows with John Mayall, Jerry Douglas, Andy McKee, David Bromberg, Sarah Watkins and many others - has built an impressive reputation and a very loyal fan base. Three songs from the record seem to resonate with younger fans: Cover My Soul with Gasoline, Red Queen and White Knuckle Girl.
Cover My Soul in Gasoline is a grim analysis of life as viewed from the basement of The Bowery Poetry Club, NYC.
Red Queen - about a copy cat suicide in a Las Vegas hotel - has generated significant interest and brought attention to these tragic stats: suicides in the Military are higher than combat deaths.
White Knuckle Girl is a lament on the challenge of having a girlfriend while living in a closet in Somerville, MA.
Mr. Sommer cites among his many influences Jeff Beck and Steve Howe, from YES, as well as the early British folk scene and players that included Davy Graham, Bert Jansch, John Mayall and blues greats John Lee Hooker and Howlin' Wolf.
Current Tour plans for the Piedmont and Mid Atlantic are:
February 7@The Station, Carrboro, NC
February 8@The Soapbox, Wilmington, NC
February9@Shumans, Raleigh, NC
February 10@The Cave, Chapel Hill, NC
For Music Samples please visit CDBaby or Eric Sommer online for additional schedules or contact him at eric(at)ericsommer(dot)com or call 202-255-1995. Additionally, you can find Eric Sommer on Facebook, too, at facebook(dot)com/ericsommermusic.
Eric Sommer is represented by Clyde is Thinking, and PR programs are managed thru MTG/NY; Clyde is Thinking is a small boutique management agency located in London with offices around the United States. For more information, promo requests or to set up an interview, please contact Tom Monihan 202-255-1995.