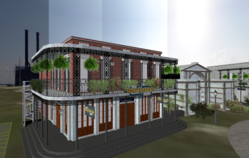 Once they try our brick veneer, they come back for more
Deer Park, NY (PRWEB) January 30, 2013
FauxPanels.com is proud to have been chosen as part of the set decoration for a week's worth of Super Bowl pre-game programming for both "The Dan Patrick Show" and "The Arte Lange Show." Both shows air on DirecTV, along with accompanying radio shows.
For the Super Bowl, the DirecTV Sports Group built special sets in host city New Orleans. Brick veneer from Faux Panels was chosen for both the interior and exterior design.
"This proves that once people try our siding panels, they want to work with them again because of the great results they get. Last year, "The Dan Patrick Show" ordered a small amount of our brick veneer paneling for a set. They were so pleased with the results, DirecTV Sports greatly expanded the order this year," said Steve Barron, president of FauxPanels.com.
For the lead up to the Superbowl, DirecTV built special sets in New Orleans for their popular hosts. The sets use Faux Panel's Nailon brick siding panels in Colonial White, Buff Blend and Red Blend.
While homeowners and commercial businesses routinely order the brick veneer panels for the durability that comes from its polypropylene construction, set designers love it because it's so easy and quick to install. Since TV shows usually have tight time constraints, that ease of installation is essential.
So are good looks and Nailon brick veneer delivers. Molded from genuine brick, it has a realistic texture that looks terrific on TV and with colors ranging from traditional red brick to bright white and everything in between, there's an option for every design.
"The Superbowl is the biggest night of television in America so we're honored that both Dan Patrick's show and Artie Lange's chose us to decorate their sets all week leading up to it. It feels like a touchdown," said Barron.
Both "The Dan Patrick Show" and "The Artie Lange Show" air on DirecTV. Check your local listings for exact times.
FauxPanels.com is an industry leader due to its huge selection of easy-to-install, low maintenance, realistic faux brick, stone and wood panels and columns, and outstanding customer service. Its products have been regularly featured on television shows such as "Celebrity Apprentice" and numerous appearances on "Extreme Makeover: Home Edition," among others. FauxPanels.com is a subsidiary of Barron Designs Inc., a family-owned home improvement business operating since 1972. For more information, visit FauxPanels.com.